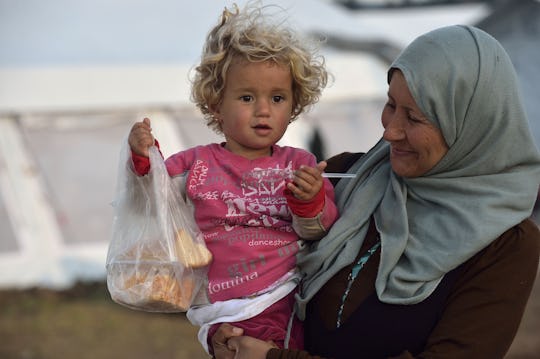 DANIEL MIHAILESCU/AFP/Getty Images
How To Celebrate Global Moms On Mother's Day, Because We're All In This Together
What does Mother's Day look like at your house? I can tell you what it has always looked like at Chez McGuire: brunch, maybe a little hike, some homemade cards that make me cry. A pretty good day, all in all. I've been lucky in the past to celebrate with my kids, all of them safe and warm and healthy. Which isn't always the case, is it? There are mothers all over the globe who struggle to keep their babies fed and safe. So this year, I'm thinking about how to celebrate global moms on Mother's Day. Because the only way we're going to make a difference is with a little solidarity.
Take Kristen Bell, for example. The actress, mother, and philanthropist kicked off the GlobalMomsChallenge Relay on Wednesday, a digital campaign to rally celebrities and other high profile leaders to share their stories of motherhood and raise money to support women and children. Here is what Bell wishes for children:
What I would wish were true for every child every where is access to health and safety. If a child is exposed to infectious diseases or war or violence or displacement — they're caught. They're stunted. But if a child has access to health and safety, they can thrive. They can discover who they are and really choose any path in life.
From May 4 to June 17, celebrities like Kristen Bell, Jennifer Lopez, Zoe Saldana, and Brooke Burke, along with a host of world leaders, were asked to share what they wish were true for every child, everywhere. Their answers, like Bell's, are absolutely noteworthy.
The Global Moms Relay is meant to raise awareness of issues that affect families around the globe, to spark a conversation about the harsh realities many mothers are struggling with every day. Every time you tweet, share, or like one of aforementioned celebs' #GlobalMoms videos, you earn $1 from Johnson & Johnson (who founded the Global Moms challenge two years ago with the United Nations Foundation) which will be funneled toward five causes: Shot@Life, GirlUp, Peace Corps Let Girls Learn Fund, U.S. Fund for UNICEF, and Nothing But Nets. If you donate a photo for GirlUp, Nothing But Nets, or U.S. For UNICEF, Johnson & Johnson will donate one more dollar per photo. How easy is that?
A one day event was held in New York on Thursday bringing together world leaders, philanthropists, and development voices to highlight the global issues affecting the health of mothers and children. You can watch the livestream of that event here.
So if you're looking for a way to help other moms around the globe this Mother's Day, use your social media savvy to tweet, share, and like every story in the Global Moms Relay you see. If you would like to donate money directly, you can visit the individual websites of these five charities.
Of course, pitching in to the #GlobalMoms initiative is a wonderful thing. Naturally. But there are other ways you can chime in and make your voice heard in order to effect change for global moms all on your own.
This Mother's Day, rather than simply dropping off flowers or sending a silly card to your own mom, take some time to educate yourself on the issues plaguing mothers internationally — whether it's infant mortality rates, the current refugee crisis, or on the basic necessities that any parent needs to get through the day.
When you're done reading up, consider donating to one of the following causes, which all assist global moms everywhere:
Whatever you do this Mother's Day, remember that while you're enjoying your mimosa brunch, or hugging it out with your own little ones, not every child and mom has it so easy. With a little action on your part, that can change.