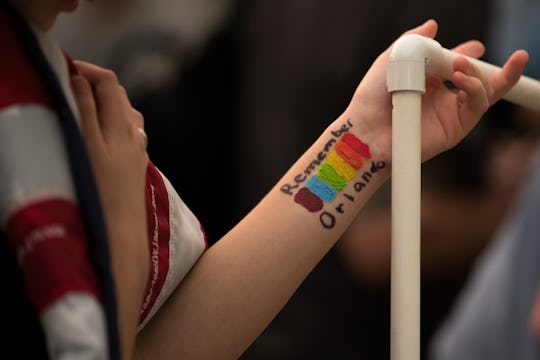 Drew Angerer/Getty Images News/Getty Images
How To Change Your Profile Picture To Support Pulse Nightclub
"Pictivism" has received its fair share of criticism, with some saying that changing one's profile picture to support a cause or express solidarity with the victims of a tragedy is an easy way to avoid doing more. But as long as action doesn't stop there, changing one's picture can send a powerful message. And ever since the mass shooting in Orlando this past weekend, there has been something affirming about the sea of rainbows and ribbons on Facebook. So if you're wondering how to change your profile picture to support Pulse nightclub, read on.
Pulse, the gay nightclub where the shooting occurred, has long had an active Facebook page. But its posts about fun events and theme nights gave way early Sunday morning to something terrifying, a cryptic post saying, simply, "Everyone get out of pulse and keep running." When the world woke up, 49 innocent people were dead and 53 more injured, killed by a man allegedly motivated by, according to various reports, homophobia, extremism, or hatred of his own desires.
Soon, scores of people rallied to express their support for the victims, through donating blood, donating money, and, yes, changing their pictures. Those running the Pulse Facebook page added two new images expressing both sadness and solidarity. One is a black ribbon with a rainbow peeking out. The other shows different colored squares saying things like "One love" and "One pulse."
While neither image is officially downloadable, you can always message Pulse if you feel a particular attachment to using either as your picture to ask if it's allowed. Same goes if you have a friend who has designed a photo or image that you feel captures what you'd like to express about the tragedy.
And if you're looking for something more official, there are plenty of options. GLAAD, for example, has a "We Are Orlando" image with a rainbow flag that you can access easily by going to their Facebook page and clicking the "Try It" button next to the text that says "Change your profile picture to show support for GLAAD." You'll be able to reposition the image on your profile picture, and choose the length of time it will stay there.
If you'd prefer to show your support for Orlando with a rainbow filter over your entire picture, here's a step-by-step guide from Romper's Allison Piwowarski.
While changing your picture may feel like a small gesture, it's one that those affected by the tragedy might appreciate. Just make sure not to stop there, since there are plenty of other ways you can offer your support, from donating money to the victims and their families to working for common-sense gun control measures so that future would-be attackers have a harder time accessing weapons capable of such widespread destruction.