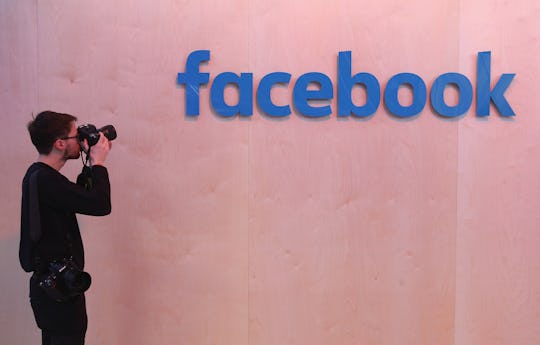 Sean Gallup/Getty Images News/Getty Images
How To Comment On Facebook In Video, Because Sometimes Words & Emojis Just Won't Cut It
Trying to take back some of the video market share from Snapchat, Facebook launched a new feature Friday that lets you comment on a post with a video. This follows the January roll out of the platform's live video streaming service. So how do you comment on Facebook in a video? It's surprisingly simple.
The new Facebook video feature was developed during one of company's famous hack-a-thons, where teams of employees tackle new projects in an all-out overnight work binge. The lead Facebook engineer on the video comment project, Bob Baldwin, said in a blog post that the project is important because "...we wanted to enable more engaging and immersive conversations." Baldwin was also behind the development of the tools that let you comment on posts with photos and stickers.
Facebook needed to do something to gin up additional video traffic across its platform. Tech Crunch reported that by the start of 2016, Snapchat users were consuming more video than Facebook users. This new video comment feature is an effort by Facebook to woo some of that traffic.
So how does it work? If a page or individual user posts something you'd like to reply to with a video, just record your video response, or download the video you'd like to share and click the camera icon in the right of the comment box. It's as easy as that.
But am I the only one who is a little nervous about the rollout of video comments? Let's face it, the comments section of just about any corner of the internet is usually a cesspool of hate speech and rage. It's one thing to have people type ugly things on your posts, but now we're going to have to see and hear it too? But, then again, maybe the reality of coming out from behind a faceless keyboard could elevate the level of discourse across Facebook. At least we can hope.
That's also going to mean more content for Facebook to police. On Thursday, I talked to a photographer mom who had access to her professional site suspended because a photo shoot she held with kids playing characters from The Walking Dead was deemed inappropriate by Facebook. The pictures were completely tame, and yet Facebook decided to take action. It later admitted the mistake and gave the mom access to her page, but it was a reminder of how powerful Facebook can be when you're using the platform, especially when it has control over all of your content.
Then there's the case of a Texas man who killed his girlfriend then posted photos of her dead body on Facebook. The images stayed up for her friends and family to see for 36 hours because a Facebook rep said "...they didn't violate graphic-content policy, and added that the company's hands were tied until it could prove the account had been hacked," the New York Post reported.
So even as Facebook makes it ever easier for you to share every thought and image across its social media platform, it's important to remember how little control you have over that content once it's out there. So go ahead and share those videos in the comments section, but be careful. And, most importantly of all, try to be kind.