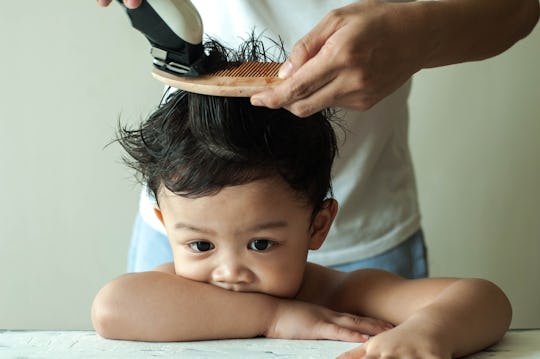 Karl Tapales/Moment/Getty Images
How To Cut Your Kid's Hair At Home (Without Regretting It)
Are your child's bangs now resting comfortably on the tip of their nose? Do you cringe each time your kid takes off their baseball cap only to reveal a nest of messy tangles? Are you this close to shaving all of your children's hair off? STOP! Do not snip a single strand until you read this guide to how to cut your child's hair at home.
As Lis Pedemonte, a veteran stylist at Yakima, Washington's Blue Sage Salon will tell you, this whole cutting your kid's hair situation is not going to be easy. But if you follow a few of her wise instructions, they might just end up with a decent looking cut. The trick, Pedemonte tells Romper, is to remember that kids tend to fall into two categories when it comes to haircuts: the movers & shakers and the sleepers. Both are equally tricky. "The movers and the shakers are constantly wiggling," she says. "While the sleepers, their heads keep flopping over."
So what's a parent to do? First off, Pedemonte says, remember this: "Your goal is to do the least damage." Sounds funny, but she's not joking. The rest? Just follow these steps.