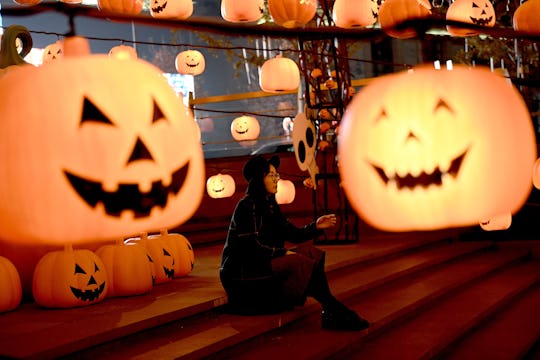 STR/AFP/Getty Images
How To DIY A David S Pumpkins Halloween Costume, Because You're Going To Want One
Halloween is not for the feint of heart, especially not in 2016. There was a time when one could simply throw her hair into some hamburger shaped buns, wear a white turtleneck and call herself Princess Leia and be done with it. Or even grab a quick costume from your local super store; a witch-in-a-bag or some such nonsense. These days, you've got to dig deep, folks. You need to find that perfect blend of scary, ironic, and now. Which is why a little DIY David S. Pumpkins costume is essentially the perfect choice for 2016. Because you don't want to be yet another fool in a Trump costume this year, right?
Tom Hanks hosted another epic episode of Saturday Night Live on Saturday, his ninth time hosting overall. That puts Hanks up there in the league of John Goodman, Steve Martin, and Mr. Fake Trump Himself, Alec Baldwin. Saturday night's show was absolute gold, with Lady Gaga as the musical guest and Hanks performing like just one of the guys (his trademark style and yes, I want to marry him). One of the weirdest, most surprising performances Hanks delivered was that of David S. Pumpkins, a main feature at a Haunted Hotel whose scare tactic is just awkward smiling and dancing with his B-boy skeleton friends.
According to Mark, the spooky elevator operator played by Keenan Thompson, "the scariest thing to the mind is the unknown." Hence the arrival of David S. Pumpkins in his wig and full pumpkin suit. Any questions?
Sure, I guess you could go out and just buy yourself a full adult pumpkin suit here and be done with it, but I don't know... I think you're better than that. Also, it's sold out because everyone wants to be David S. Pumpkins for Halloween.
It's going to be way more fun to DIY a David S. Pumpkins costume anyhow. Here's what you do it:
Skeleton Crew
First of all, convince two of your friends to be your B-boy skeleton dance crew. This is essential. While many friends might not want to be the less funny part of a funny costume, if they truly love you they will do it. Remind them of this.
Pantsuit
Next, get yourself a black pantsuit. Check out vintage shops because I think most people donated their pantsuits around 2001, so there should be plenty.
Neon Pumpkin Stickers/Pumpkin Tie
If you can't get your hands on orange pumpkin stickers for your black suit and a pumpkin tie at a dollar store within 60 seconds, I don't think you're living in North America.
Black Wig
The real David S. Pumpkins has a dashing streak of silver in his coiffure, so I would recommend finding a wig like that. In a pinch, just grab some silver hair dye and do it up yourself. You know what they say; go full Pumpkins or go home.
And then you're set to become the next David S. Pumpkins.
Remember a few weeks ago when we were all going as Ken Bone? I feel like we've deserted him. Although to be fair here, not even Ken Bone is going as Ken Bone.
The moral of the story here is this: never decide on your Halloween costume until the week of Halloween arrives. Or at least until after the latest episode of Saturday Night Live airs, just in case they come up with another brilliant/odd skit like David S. Pumpkins.
Any questions?