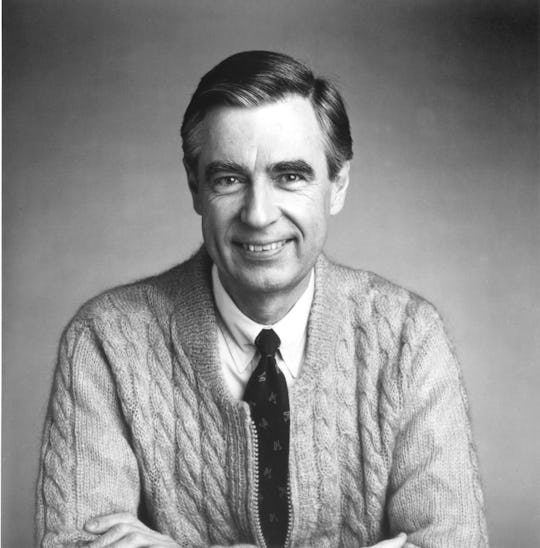 Getty Images/Getty Images Entertainment/Getty Images
How To Donate During The 'Mister Rogers Neighborhood' Marathon
Between Netflix, YouTube, and the handful of children's television stations that came with my cable subscription, my 4-year-olds have more than enough options when it comes to kid-friendly programs. The variety is nice, of course, but more than 50 years after its debut, Mister Rogers Neighborhood still feels like the gold standard when it comes to shows I'd actually want my children to watch. Reruns aren't always easy to find, but starting Monday, all 886 episodes of the PBS classic will be streaming on Twitch as part of an 18-day-long public broadcasting fundraiser. Wondering how to donate during the Mister Rogers Neighborhood marathon? It'll be wholesome television nostalgia for a very good cause.
The marathon itself will be in some ways unprecedented: according to Variety, in addition to the popular favorites, some of the episodes will have actually only been aired once before, and aren't available to watch anywhere else online. The marathon will begin at 12 p.m. PT at www.twitch.tv/misterrogers, and according to a PBS press release, a donation panel on the channel will allow viewers to make a financial contribution to the campaign. All proceeds donated within the United States will be used to support local PBS stations.
As an Amazon-owned video game streaming site, Twitch might seem like an odd host for a Mister Rogers Neighborhood marathon, but according to TechCrunch, it makes more sense than you might think. Other classic PBS shows, like "Bob Ross' The Joy of Painting," "Julia Child's The French Chef," have already streamed on the site, and it's no secret that there is major demand these days for the return of the feel-good, throwback shows of years past. But Mister Rogers Neighborhood isn't just about childhood memories, either. The program has also long been an important symbol of the fight for continued support of public broadcasting, something which Director of Business Development Jane Weedon told TechCrunch felt especially important given the current political climate.
Even though Republican politicians have pushed back for years against government funding of public broadcasting, in his proposed budget released in March, President Donald Trump took things one step further, by moving to eliminate all federal funding to the Corporation for Public Broadcasting. That hasn't exactly been a popular move, so as Weedon explained to TechCrunch, Mister Rogers Neighborhood will be coming to Twitch "at a time when the importance of PBS is very topical."
That actually might be a bit of an understatement. In its effort to up its support of PBS, Twitch will be going beyond just adding a donation panel to the streaming site, and will also be running "personal stories about the importance of PBS and the impact of its programming," throughout the marathon, according to the PBS press release. The campaign itself will even kick off with an airing of Fred Rogers' famous 1969 U.S. Senate committee testimony in which he advocated for the value of public television, according to Variety.
In addition to being a strong supporter of public broadcasting, Rogers was also a pioneer when it came to creating child-friendly programming that tackled important and often difficult subjects. He regularly discussed emotions and feelings, the importance of empathy, and the notion that everyone is OK just as they are. He spoke openly about things like death, divorce, accepting each other's differences, and making good choices, while in some instances, he even tackled the subject of violence, and the threat of nuclear war, according to Quartz.
These days, Mister Rogers Neighborhood might seem a bit too retro for little kids (my own children don't seem to love it nearly as much as I do), but there's no question that the messages are still just as relevant and valuable now as they were when they first aired. Over the next 18 days, Rogers' wisdom will be available for free for anyone who wants to re-live the feel-good memories of Mister Rogers Neighborhood. But it'll also be the perfect opportunity to give back in support of public broadcasting, at a time when it's facing the threat of major funding cuts.