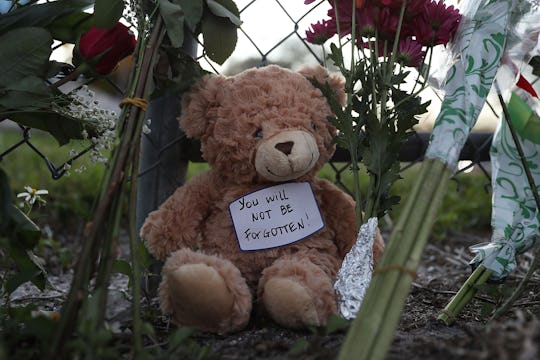 Joe Raedle/Getty Images News/Getty Images
There's A Fund For The Parkland Boy Who Held The Door Shut To Protect His Classmates
On Wednesday afternoon, a shooter opened fire at a high school in Parkland, Florida, killing at least 17 people and injuring dozens of others, according to officials. The deadly incident at Marjory Stoneman Douglas High School has left parents, students, and families terrified and outraged. But, in the midst of all the rightful anger, the community—and world, at large—has also come together to support local hero Anthony Borges, the Parkland shooting victim who risked his life to save students. People have sent donations to Borges' family to help with his recovery, and here's how you could help, too.
Borges's family is accepting donations through a GoFundMe page set up three days ago by his father, Royer, in hopes of raising a few thousand dollars to cover the medical expenses from the multiple surgeries his son will need after being shot five times during the bloody mass shooting, according to USA Today. Borges and about 20 other students had fled into a classroom to escape the mass shooter, who was drawing closer to their location. The last one in, the 15-year-old soccer player had used his body to barricade the door to protect about 20 other students from the gunman, who was shooting through the door, USA Today reported.
In an interview with ABC's Good Morning America, Carlos Rodriguez said that he and his fellow students were able to survive the brutal attack because of his best friend's courage. Rodriguez told Good Morning America, according to ABC News,
None of us knew what to do. So, he took the initiative to just save his other classmates.
The mass shooter shot Borges in both legs, in his left upper thigh bone, and through his back, according to USA Today. Royer wrote on the GoFundMe page that his son is in stable condition, but "has a long road of recover ahead of him."
Royer told ABC News that his son had called him that day and said, "Dad, somebody shot me in the back and my leg, too." Royer, who broke down in tears during the interview, also called Borges his "hero" for the bravery and selflessness he displayed while protecting other students from the mass shooter.
Borges's father added, "I only ask that people pray for him."
The Borges has set a goal of $5,000 to cover the multiple surgeries Anthony Borges will need. As of Monday afternoon, they had more than surpassed its goal: They have so far raised nearly $160,000 by more than 4,880 people.
Broward Sheriff Scott Israel had visited Borges in the hospital on Sunday, sharing a now-viral photo of the pair in Borges's hospital room, according to NBC News. In the photo, Israel is holding Borges's hand as the teen lays down in his hospital bed, surrounded by balloons, gifts, and some flowers. The Broward Sheriff's Department posted a note to its Facebook page about the visit, NBC News reported. It read,
The Sheriff was honored to visit Anthony Borges,15, in the hospital. Anthony was shot five times. Fortunately, he is recovering, but has a long road ahead with more surgeries needed. Please join us in praying for the swift recovery of Anthony and all others from #StonemanDouglas.
In the wake of the mass shooting, students, parents, community members, and politicians have come together to demand movement on gun control. On Sunday, teen survivors of the Parkland shooting told Martha Raddatz, co-anchor of ABC News' This Week, that they are calling for a march on Washington to spur Congress into action, according to ABC News. They have planned a nationwide rally, called "March for Our Lives," on March 24.
If you are feeling helpless and want to do more to support Borges and other survivors of the mass shooting, here are some additional ways you can help.