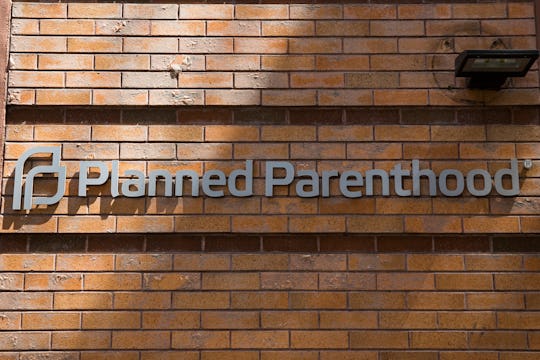 Andrew Burton/Getty Images News/Getty Images
Texas' Planned Parenthood Needs Donations ASAP
It has been a little over a year since Texas officials announced plans to defund Planned Parenthood as a state-funded healthcare provider. And now it looks like the state plans to follow through on its pledge. On Tuesday, Texas Gov. Greg Abbott announced that the state delivered a final notice to Planned Parenthood, which would result in the organization's removal from the Medicaid program in 30 days. As thousands of women across the state could be left without essential health care, many supporters are now wondering how to donate to Texas' Planned Parenthood.
Planned Parenthood has been receiving 3.1 million dollars every year from Medicaid in order to provide low-income women with health care and family planning options; if the final notice is not contested, that money will be cut off in 30 days. Planned Parenthood released a statement about the state's decision that read in part:
Today Governor Abbott formally announced Texas' intent to ban Medicaid patients from seeking healthcare, such as HIV tests, well-woman exams, birth control, clinical breast exams, and cervical cancer screenings, at Planned Parenthood.
According to The Texas Tribune, which obtained the notice, Planned Parenthood has the option to appeal the state's decision within the next 15 days by requesting a hearing from the Texas Health and Human Services Commission. Yvonne Gutierrez, executive director of Planned Parenthood Texas Votes, told The Texas Tribune:
Planned Parenthood continues to serve Medicaid patients and will seek a preliminary injunction in an ongoing lawsuit filed in November 2015, following the state's original threats to take action against Planned Parenthood's patients.
Despite Planned Parenthood's commitment to offering its patients health care regardless of the outcome of the notice, the organization is going to need significant support in the coming months. Planned Parenthood Texas has already seen a massive increase in donations since President-elect Donald Trump was voted into office in November; not only online donations but also volunteer sign-ups have increased 10 times.
Planned Parenthood of Texas offers a variety of donation options, including;
online donations
by mail
over the phone
gifts of stocks or securities
remembering Planned Parenthood in your will
workplace sponsorship programs
In November, Planned Parenthood filed a lawsuit against the state of Texas to protect itself (and its patients) from defunding, but the court was unable to move forward with the suit since Texas officials had not acted on the notice. Despite this serious blow to its funding, Planned Parenthood of Texas released a statement to reassure its patients that the organization would fight for their rights to affordable health care.
The fight is not yet over.