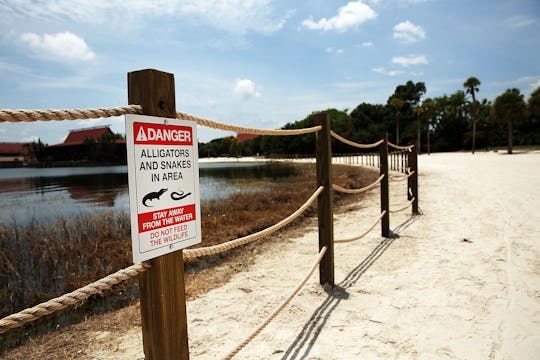 Spencer Platt/Getty Images News/Getty Images
How To Donate To The Lane Thomas Foundation In Lane Graves' Memory
The pain felt by the parents of Lane Graves, the 2-year-old who was attacked by an alligator at a Walt Disney World Resort hotel in June, must continue to be indescribable. It is bad enough for parents to lose a toddler, but to watch him get dragged away by an alligator, which snatched the boy from where he was playing at the edge of the water... there are no words. Both parents tried to rescue their son to no avail. Since his death, the parents have started a charity in his name, and here is how to donate to the Lane Thomas Foundation.
Matt Graves and Melissa Graves, Lane's parents, released a statement on Wednesday regarding the parents' decision not to sue Disney World for Lane's death, according to NBC News:
Melissa and I are broken. We will forever struggle to comprehend why this happened to our sweet baby, Lane. As each day passes, the pain gets worse, but we truly appreciate the outpouring of sympathy and warm sentiments we have received from around the world.
We know that we can never have Lane back, and therefore, we intend to keep his spirit alive through the Lane Thomas Foundation. It is our hope that through the foundation we will be able to share with others the unimaginable love Lane etched in our hearts. In addition to the foundation, we will solely be focused on the future health of our family and will not be pursuing a lawsuit against Disney. For now, we continue to ask for privacy as we focus on our family.
The Nebraska couple, who have another child as well, have instead decided to focus on the "future health of our family" as well as a charitable foundation they created in their son's name to "keep his spirit alive."
The Graves' created the Lane Thomas Foundation to honor their son. In a statement released at the time little Lane was laid to rest, the family said:
If you would like to honor Lane, donations are being accepted on behalf of the Lane Thomas Foundation at the Omaha Community Foundation. We will use these funds to make direct donations to various charitable organizations. One hundred percent of all donations will be received by the charitable cause. We thank you for helping us create a lasting legacy for our son.
The Foundation supports various charities with direct donations. To donate to the Lane Thomas Foundation, simply click here and follow the prompts.
What better way to remember their sweet little boy than to find a way to help others. Hopefully, now that they will have the opportunity to grieve in privacy, they will find a way forward with their lives.