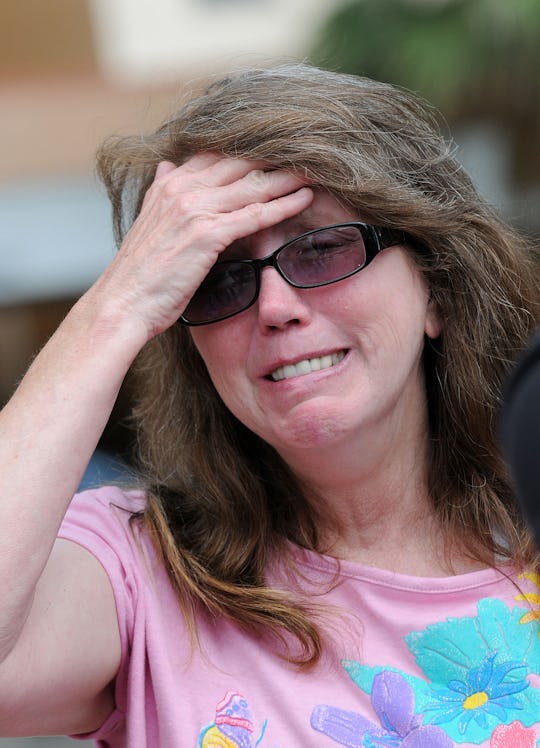 Gerardo Mora/Getty Images News/Getty Images
How To Donate To The Orlando Shooting Victims
After the worst mass shooting in United States history occurred early Sunday morning at a gay nightclub in Florida, leaving at least 50 dead and approximately 53 people hospitalized, people across the country are reeling. Many are looking for some way to help. Now, Equality Florida has set up a GoFundMe to allow people to donate to the victims of the Orlando nightclub shooting.
(Update: The FBI has updated the death toll to 49 victims. The shooter was also killed.)
The page, which can be accessed here, has already collected over $100,000 worth of donations. Equality Florida, a non-profit which is the state's leading LGBT organization, released the following statement both on its website and in the GoFundMe description:
We are reeling from the tragic news that a gunman opened fire on the 2am capacity crowd at Pulse leaving 50 people dead and over 50 injured according to Orlando Mayor Buddy Dyer. We are heartbroken and angry that senseless violence has once again destroyed lives in our state and in our country. Gay clubs hold a significant place in LGBTQ history. They were often the only safe gathering place and this horrific act strikes directly at our sense of safety. June commemorates our community standing up to anti-LGBTQ violence at the Stonewall Inn, the nightclub that has become the first LGBTQ site recognized as a national monument. We have received a steady stream of emails and messages from those seeking to help or to make sense of the senseless. We make no assumptions on motive. We will await the details in tears of sadness and anger. We stand in solidarity and keep our thoughts on all whose lives have been lost or altered forever in this tragedy.
Romper spoke with on the phone with Hannah Willard, the Policy and Outreach Coordinator at Equality Florida, for information on how, specifically, the money raised through the GoFundMe will be used. Willard said that Equality Florida is consulting with their local partner organizations for the best ways to ensure that "the funds will be used to support the victims' families and those who are still fighting for their lives in the hospital."
Other ways to help besides making a monetary donation include donating blood to the victims, especially if you are in the Orlando area, attending a vigil to honor those who lost their lives, and, if you are upset and confused about why someone should be able to legally obtain an assault rifle capable of massacring 50 people, reaching out to your elected representative about gun control.
For those who are looking to speak to a counselor about Sunday's terrible attack, Equality Florida has listed some resources on their Facebook page, including the Zebra Coalition hotline at (407) 228-1446. For those located in Orlando, the Gay, Lesbian, Bisexual, Transgender Community Center of Central Florida is open and encouraging people to come in and talk.
The ramifications of the shooting at Pulse are only beginning for those directly affected by it. Thoughts and condolences go out to the victims, although as situations like these get more and more common, it starts to seem that thoughts and condolences aren't nearly enough.