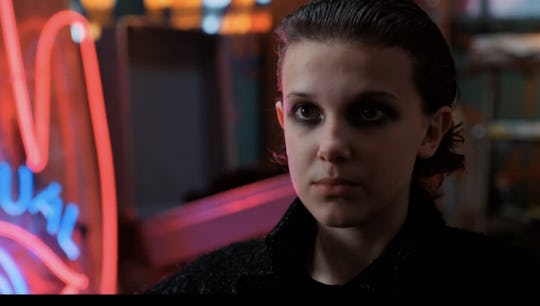 Stranger Things on Netflix
How To Dress As Eleven From 'Stranger Things' Season 2 For Halloween (She's So Badass)
In the second season of Stranger Things, everyone's favorite waffle-loving heroine goes through quite the transformation. To have the most current take on her look for your costume this year, knowing how to dress as Stranger Things' Season 2 Eleven for Halloween is crucial. It looks like the whole pink dress and dad socks getup is all last season.
Seriously, the makeover scene in season 2, episode 7 is an '80s kid's dream: As "Dead End Justice" by The Runaways plays in the background, Eleven's new band of buddies help her transform into a smokey-eyed, slick-haired rebel queen. The blonde wig and borrowed dress are long gone for this girl. Her wardrobe and overall vibe has changed to reflect the darker storyline of the show.
Because Eleven is a punk rocker now, putting together a costume inspired by her ensemble should be easier than ever. After all, the whole look is homemade, DIY, and intentionally imperfect. Shopping your closet or a local thrift shop is probably all you'll need to do to throw this together. Although you can still add in a cute waffle purse for emphasis if you like. And make sure you take your makeup to the next dark level.
And remember: You've got a new attitude.