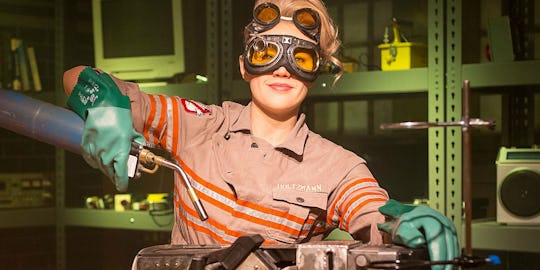 Columbia Pictures
How To Dress Your Kid Like Kate McKinnon's Holtzmann In 'Ghostbusters' For Halloween
Ghostbusters was one of the hit movies of the year, despite the criticism that it ruined the original franchise. Although I will always love the original movies, the re-make with an all girls' cast totally killed it, especially for those with children. It's so important for kiddos to see women rocking it, especially in what might be considered a male-driven society, which is why knowing how to dress your kid like Kate McKinnon's Holtzmann in Ghostbusters for Halloween is the ultimate nod to feminism, fun, and believing in your dreams.
Oh, and hey. It's also a really easy character to put together. Whether you're dressing your kiddo like the relaxed version of Holtzmann in her overalls and goggles or if your child's donning the famous Ghostbusters uniform and proton pack, you can put the entire costume together with items your kid might already have or wear again.
Because let's be honest, what kid doesn't want to dress like Dr. Jillian Holtzmann all the time?
You can't go wrong with a proton pack in the house either, so pick up any of these items to dress your kid like Holtzmann, everyone's favorite Ghostbuster. You can easily get the whole family involved as the rest of the group, but I'm telling you, your tiny Holtzmann will be putting the boo in booyah.