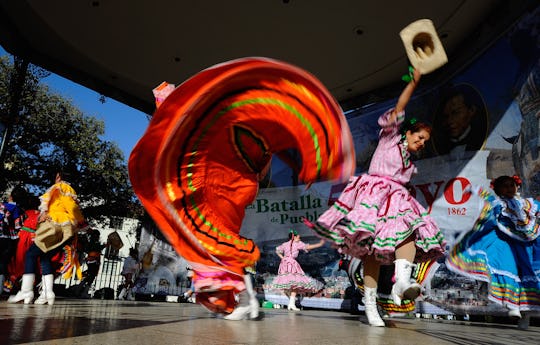 Kevork Djansezian/Getty Images News/Getty Images
How To Explain Cinco De Mayo To Your Kids, In A Way They'll Understand
There are a few universal truths about kids that are important to remember. First, they are often going to want to eat the very thing you just asked them not to eat (candy, chips, worms... etc). When you say "Stop running before you fall down." they are going to fall down, I don't know why. And last but not least, all kids love an underdog. So if you're wondering how to explain Cinco De Mayo to your kids, remember that one salient selling point.
It's natural to think of Cinco de Mayo's other hot selling points first, namely snacks and parties. May 5 is fast approaching, and with it will come the celebrations, the parades, the festivals and oh yes... the food. Generally speaking, Cinco de Mayo is considered a day to celebrate Mexican culture and heritage. Or at least, a version of Mexican heritage that seems like a lot of fun.
It's a day when non-Hispanic Americans traditionally don ironic sombreros while drinking tequila and affecting offensive accents they think sound Mexican (but don't). It's also a day of mariachi bands, and pinatas, of margaritas and guacamole. Basically, Cinco de Mayo, in much of the Western hemisphere, has become a day when we all take part in plenty of cultural appropriation, apparently in the name of fun and fashion.
So how best to explain this to your kids? Well, a good start would be to tell them about the real reason Mexicans celebrate Cinco de May, rather than passing on unintentional tips on how to throw an offensively ignorant backyard bash.
Back in 1862, the Mexican army gained a surprising victory against the French at the Battle of Puebla on May 5 — a victory they weren't supposed to win, as the Mexican army was outnumbered, out-resourced, outflanked, and outdone. They owed France a pile of money and France kept bossing them around, acting all "I'm better than you" and rubbing the Mexicans' noses in their struggles. Just like a schoolyard bully, except with an army and scads of money.
The French army had 6000 well armed, well trained soldiers (probably well fed on excellent cheese and pastries) while the Mexicans had about 4,500 troops who were not as well equipped. The French had a history of beating the Mexicans, but this time was different. After the Mexicans defeated the French, then-President Benito Juarez declared May 5 a national holiday. (It's no longer celebrated as such, although most Mexican schools close each year to commemorate the date regardless.)
Basically, the Battle of Puebla was a score for the little guy, which is what you can tell your little ones. You might even be able to squeeze in a lesson about perseverance and courage if you're lucky. Like I said, kids love an underdog — maybe because they're small, and they feel like underdogs themselves so much of the time.
Remember, before you head off to have a blast drinking margaritas and relaxing by a pool somewhere, take a moment to tell your kids about the real history behind for Cinco de Mayo. That, along with driving sober and staying hydrated, is the responsible (and respectful) thing to do, after all.