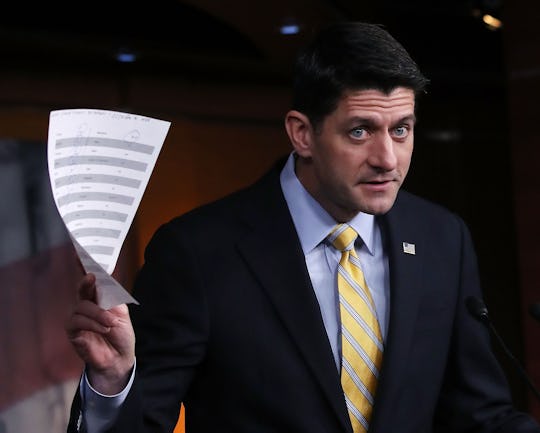 Mark Wilson/Getty Images News/Getty Images
Where To Go If Planned Parenthood Is Defunded
The 115th Congress was only sworn in on Tuesday, but House Republicans aren't letting the grass grow under their feet. During a press conference on Capitol Hill on Thursday, newly reelected Speaker of the House Paul Ryan announced that the GOP intends to defund all Planned Parenthood facilities. After years of congressional Republicans trying to do away with Planned Parenthood, it seems they will finally get the victory they've always wanted. Congratulations. Meanwhile, women across the country will be scrambling to find a community health clinic if Republicans manage to defund Planned Parenthood.
The announcement from Ryan came one day after he and Vice President-elect Mike Pence, a longtime opponent of women's reproductive rights, held a closed-door meeting. As Planned Parenthood Action Fund president Cecile Richards pointed out upon hearing the news that the GOP was moving to defund Planned Parenthood:
It's likely no accident that this attack was launched the day after Vice President-elect Mike Pence, a long-time opponent of Planned Parenthood, held a closed-door meeting with Speaker Ryan and the Republican leadership.
House Republicans are promising to cut off federal funding to Planned Parenthood as part of an overall move to effectively dismantle the Affordable Health Care Act. Planned Parenthood receives about $500 million annually from the federal government, and the majority of those funds are used towards preventative health care, birth control, breast health services, and screening for STDs.
Due to the "Hyde agreement," federal funds cannot be used for abortion service programs unless the mother's health is in danger (or in the case of sexual assault), and the funds in question are not fungible (meaning that Planned Parenthood essentially "bills" non-abortion services separately, and doesn't receive a lump-sum at the start of each year).
If House Republicans are successful in their bid to defund Planned Parenthood, it's important to know how to connect with community clinics. The United States Department of Health and Human Services offers an easy-to-use map on its website of health centers available across the country, and can direct patients to the closest one in their community. These Health Centers are:
... community-based and patient-directed organizations that deliver comprehensive, culturally competent, high-quality primary health care services. Health centers also often integrate access to pharmacy, mental health, substance abuse, and oral health services in areas where economic, geographic, or cultural barriers limit access to affordable health care services.
But there's a catch: While Health Centers do offer medical services, the often-flogged GOP notion that these health centers could easily replace Planned Parenthood clinics is unrealistic. Many of the clinics do not offer an OBGYN on staff, nor do these clinics have the correct equipment (or expertise) needed to deal with the specific needs of women's health care. These clinics would also be hard-pressed to deal with a deluge of new patients, especially when those patients need help in areas where the staff have not necessarily been properly trained.
The reality is that Planned Parenthood offers vital services for women's health, whether the House Republicans like it or not. Perhaps Minority House Speaker Nancy Pelosi said it best when she responded to Speaker Ryan's Planned Parenthood announcement:
This is a priority for the Republicans. So I just would like to speak individually to women across America: this is about respect for you, for your judgment about your personal decisions in terms of your reproductive needs, the size and timing of your family or the rest, not to be determined by the insurance company or by the Republican ideological right-wing caucus in the House of Representatives. So this is a very important occasion where we're pointing out very specifically what repeal of the (Affordable Care Act) will mean to woman.