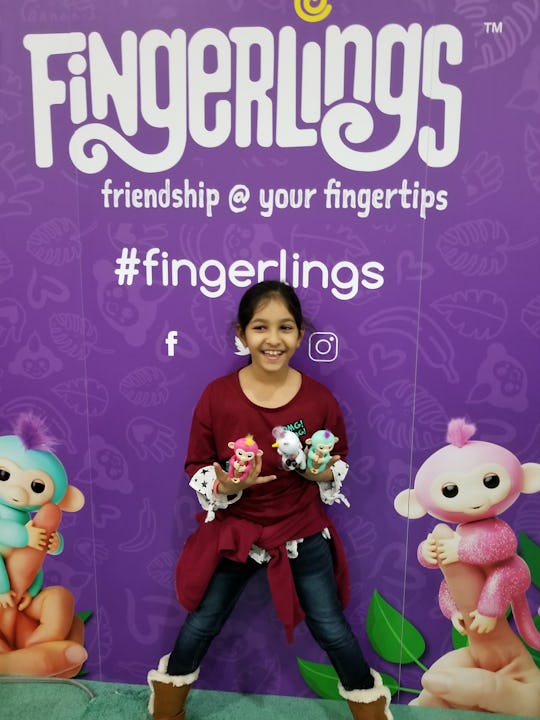 Courtesy of Mishal Ali Zafar
How To Get A Fingerling If They're Sold Out, Because Your Kid Definitely Wants One
When your kid asks for something, as a parent, you do what it takes to make them happy. This year, kids all over the country are asking their parents (and Santa) for Fingerlings, the hottest toys of the season. They are so hot, in fact, you may not be able to get your hands on one in store, because they tend to sell out very quickly. So if getting one of these robotic little monkeys is on your to do list, you should know how to get a Fingerling if they're sold out, because your kid definitely wants one.
The only sure fire way to get a Fingerling if it is sold out online and in stores is to buy one from a reseller. You could take a chance and set up an alert on a stock tracker website like Zoolert or NowInStock, but there is no guarantee you will be to purchase one before it sells out again. According to The New York Times, popular toys are being snapped up by bots — software designed to find and buy popular items as soon as they are in stock and then purchase them with inhuman speed. This is why it is almost impossible to buy a Fingerling online, but it doesn't hurt to try.
So once these bots (run by scalpers) purchase up all the stock of popular toys like Fingerlings online, they are resold on sites like Ebay and Amazon. Scalpers and resellers charge anywhere from two to three times the price for Fingerlings, and the prices may get higher as the Christmas holiday nears. Fingerling monkeys retail for $15, but resellers on Ebay are charging up to $50, like this Purple Mia Fingerling ($45, Ebay) or this Gigi Unicorn Fingerling ($48, Ebay). These resellers have pictures of their Fingerlings — tables and rooms stacked with Fingerlings — so it's no wonder you can't find one to buy.
You can find Fingerlings from resellers on Amazon as well. This Kingsley The Sloth Fingerling ($43, Amazon) is available from multiple sellers, as is this Pink Bella Fingerling ($42, Amazon). But before you buy from any reseller, make sure to read their reviews. Some sellers on Amazon or Ebay may have fake listings, and others may be selling fake Fingerlings. Fake Fingerlings may look like the real deal, but if they aren't made by the Fingerling manufacturer, WowWee, then they are not going to be the quality toy you were looking for.
So take some time out and do a little due diligence before you make your purchase. You should also familiarize yourself with the different Fingerlings made by WowWee, including a Sloth named Kingsley, Gigi the Unicorn, and six Fingerling monkeys, including Bella (pink), Boris (blue), Finn (black) , Mia (purple), Sophie (white), and Zoe (teal). This way, if you find a Fingerling-looking Panda or Giraffe, or monkey with polka dots, you might notice that it is a fake.
Why are Fingerlings so popular anyway? Unlike most toys in the robotic space, Fingerlings are actually pretty easy to interact and play with. They don't have a learning curve, and don't require learning complicated commands — Fingerlings have two sensors that respond to just simple play. They can react to your voice, touch, and motion by turning their heads, blinking their eyes, cooing, burping and farting, snoring when you rock them to sleep, and even blowing kisses back to you. They feature over 40 different animations and sounds, and are super cute, too. Kids can hang them on their fingers or backpacks, and take them wherever they go.
With a price point of $15, their popularity is completely justified. What isn't justified is that you might have to pay up to three times that price to get one for your kid, but hey, sometimes you'll do whatever it takes to see your kid smile.
Check out Romper's new video series, Romper's Doula Diaries:
Watch full episodes of Romper's Doula Diaries on Facebook Watch.