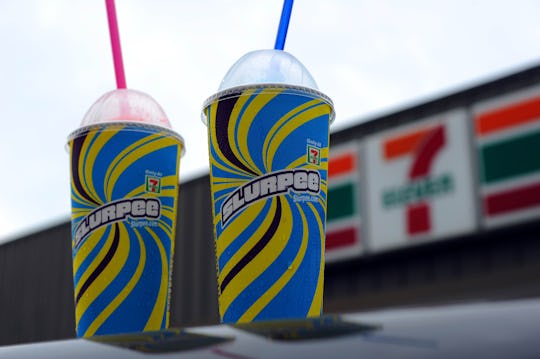 TIM SLOAN/AFP/Getty Images
How To Get A Free Slurpee On 7/11 & Enjoy That Frozen Treat
There are a lot of tastes I've grown out of since I was a kid. Lunchables, for instance, are totally gross. As are Hot Pockets and Chef Boyardee Beefaroni. But there is one thing that continue to taste like heaven and I don't care if I look ridiculous drinking one while wearing yoga pants in my mom car — the Slurpee. Everyone loves a Slurpee, especially on these hot, sticky, summer days, so get ready for July. Because it's time to learn how to get a free Slurpee on 7/11.
Stopping at gas stations is a must for any summer fun. Whether you're picking up sodas to fill a cooler or need a pee break on your road trip, it's pretty much the quintessential summer necessity. And when that gas station is a 7-Eleven? You've got to pick up a Slurpee.
Luckily, July 11 also happens to be 7-Eleven Day (get it — 7/11) , which means you can get a free Slurpee. According to the 7-Eleven page, if you head into any 7-Eleven on July 11 between 11 a.m. and 7 p.m., you can get a free small Slurpee. Yep, it's that easy to get the perfect summer treat.
All the flavors are available, but 7-Eleven is introducing a new birthday cake flavor Slurpee in honor of the chain's 50th birthday.
No better way to beat the heat, am I right? Happy 7-Eleven Day — time to get your Slurpee on.