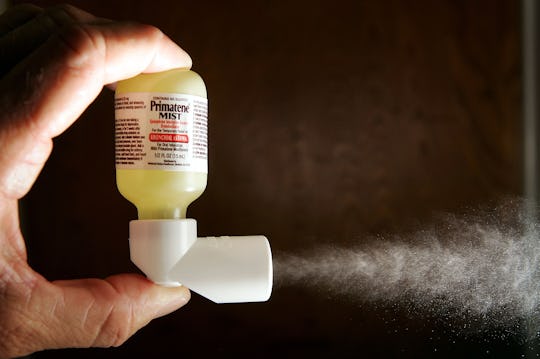 David McNew/Getty Images News/Getty Images
How To Get A Replacement Inhaler After The Big Recall
Two weeks ago, British pharmaceutical firm GlaxoSmithKline (GSK) recalled more than 590,000 asthma inhalers due to faulty packaging. The recall affects three batches of metered-dose inhalers from hospitals, pharmacies, retailers, and wholesalers in the United States. If you're affected, you may want to know how to get a replacement inhaler after the widespread inhaler recall. Since there are no serious health consequences, people are not being asked to return their devices. But if you have any questions, you can call GSK's customer service center for more information.
GlaxoSmithKline voluntarily recalled nearly 600,000 Ventolin HFA 200D asthma inhalers with the lot numbers 6ZP0003, 6ZP9944, and 6ZP9848, CNN reported. The pharma company discovered that these batches of albuterol inhalers may have an issue with the dosage delivery system. According to Little Things, GSK received multiple complaints that the devices leaked while in their packaging, which meant people may receive fewer doses of medication than displayed on the dose counter.
Although the potential defect is not harmful to a person's health, it may cause them to run through their medication faster than normal. You should get emergency care or see your doctor right away if any inhaler is not relieving your or your child's symptoms. Otherwise, you can call GSK's customer service line at 1-888-825-5249 with concerns about your affected inhaler.
GSK spokesperson Juan Carlos Molina told CNN,
We continue to investigate the issue in order to identify the root cause and implement appropriate corrective and preventative actions.
According to Good Housekeeping, this is a Class II recall. The U.S. Food and Drug Administration classifies Class II as defects that "may cause temporary or medically reversible adverse health consequences or where the probability of serious adverse health consequences is remote." In other words, the defective Ventolin inhalers should not cause you or your child immediate harm if you continue to use them.
The Ventolin HFA 200D inhaler is a prescribed medication, so you would not have to worry about picking up a defective over-the-counter device. According to the Asthma and Allergy Foundation of America, the recall should not affect pharmacy supplies of Ventolin HFA 200D. So you should be able to refill your prescription with your local pharmacist.
Although the inhaler defect would not cause a person serious harm, you should still remain cautious. If you continue to use the inhaler, keep a close eye on the doses and how you or your child is responding to the medication. You should also address any and all concerns with your doctor. Asthma is a serious health condition that have serious or fatal health consequences if not properly managed. It's better to be safe.