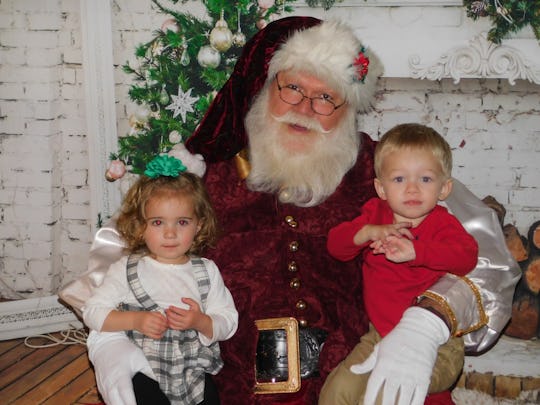 Photo courtesy of Kara Hudspeth
Because Santa Is Too Expensive, You Need This Christmas Hack
We've all been there. You're inching into hour one of queuing for $50 photos with Father Christmas when it happens, your kid snaps and a ho ho holy hell of a meltdown ensues. Suddenly the mall and its sound system, blasting Wham!'s "Last Christmas" overhead, doesn't seem so holly or jolly. Trying to contain your hysterical child amidst the breathy reverb of George Michael's promise to give his heart to someone speeeecial, you can't help but ask yourself, "Surely there's a better, more affordable way to get a photo with Santa?"
Turns out, there is.
When the bakery frequented by an Atlanta group of friend upped its Santa pics prices this year, the ultimate holiday hack dawned on them: Why not rent-a-Santa instead?
"Last year, one family had a Christmas party and that afternoon the host arranged for all of us to go this bakery for Santa photos," says Will Evans. "We had four kids total and it was like $15 for each." The friends had planned to do the same thing this year when they discovered the bakery was now charging $125 a family. Appalled, party host Kara Hudspeth took matters into her own hands and decided to find her own Santa.
As it turns out, finding a Mr. Claus isn't nearly as difficult as one might think. In Kara's case, she literally pulled up next to one.
"I was at the stoplight and looked over and there was this man in a truck with 'Atlanta Santa' printed on the side of it," she says. "I called him up and turned out he lived in my neighborhood."
Points for proximity aside, this Santa checked all the other necessary boxes: legit beard, bespoke suit and satchel, and — Christmas miracle! — an affordable price. For $250, he agreed to visit the Hudspeth's holiday party for an hour.
Thrilled, Hudspeth quickly asked her friends, whose children numbered 18 in total, to go in on the rental with her. Granted, because some pals were visiting from out of town, the other friends covered the cost as a treat, ultimately dividing it between six couples. But had they divvied it up amongst the entire crew, it would have been something like $14 a kid — a hell of a deal and double the holiday magic.
"We told all the kids to go upstairs when we saw Santa's truck pull in," says Evans. When Santa rang the doorbell, the children were allowed to come down. "They opened the door and they were all hooting and hollering and chit-chatting."
But even if you don't happen to pull up next to a Kris Kringle for lease, it turns out you can find dozens of jolly old elfs online. Sites like Gigsalad have entire pages dedicated to hiring Santa Clauses complete with "fast free quotes" for easy price comparisons.
Of course, the concept of having Papa Noel come to your own home may sound bizarre to some. But in other countries it's standard practice. In Finland, for instance, Santa rolls around town on Christmas Eve hand-delivering gifts door to door to children.
So if you're ready to commit to an in-house St. Nick, take Hudspeth's advice: Remember that making the most of Santa's visit is all about the details. In Hudspeth's case, that meant nailing the photo portion of the afternoon.
Rather than merely stationing Santa in the corner of a room, Hudspeth wanted to get the most bang for all the parents' bucks. So she went on Amazon and found a Christmas backdrop. For $12.99 she got a faux fireplace canvas image.
"I tapped it to my wall and added an ottoman for him to sit on and that was it," she says. With her own Nikon, Hudspeth snapped the photos while her friends took additional pictures with their cell phones. "The room for the photos was set up next to the playroom, so all the kids just played in there while they were waiting," she says. In less than hour the photos where complete and entirely hissyfit-free.
In fact, Hudspeth's in-home photoshoot was so efficient, Santa had enough time on the clock that he not only volunteered to read the children a Christmas story, after he finished he grabbed a seat on the couch and watched a quarter of the Georgia v. Alabama game.
The bulldogs lost, but the savvy parents feel like they pulled off a holiday win.
"He was awesome," says Evans of their rental Santa.
"We're definitely going to do it again next year," says Hudspeth. "It's going to be an annual thing."
Cost breakdown:
Rent-a-Santa for one hour: $250
Faux fireplace photo backdrop: $14.77 (Amazon)
1 x 11x14, 2 x 5x7 photo prints: $9.98 (Shutterfly)
Total: $274.75
Rent-a-Santa pro tips:
Split the cost. The more families, the cheaper the rental for everyone
If you're hosting, consider activities for the kids like decorating cookies before the big red man arrives
Do your homework and checkout your Santa's credentials. Many sites offer reviews so you can make sure you're getting a fun, safe Santa.
This first-time mom wants to have a home birth, but is she ready? Watch how a doula supports a military mom who's determined to have a home birth in Episode One of Romper's Doula Diaries, Season Two, below. Visit Bustle Digital Group's YouTube page for the next three episodes, launching every Monday starting November 26.