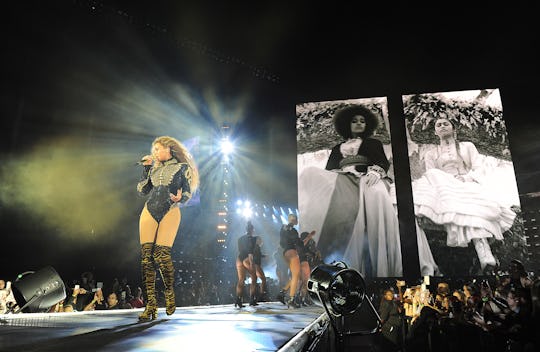 Handout/Getty Images Entertainment/Getty Images
How To Get Beyonce's "Boycott Beyonce" T-Shirt, Because No One Trolls Like The Queen
Before there was the whole "Will they or won't they?" controversy swirling around our beloved Queen Bey and that husband of hers (Jay something or other), there was this little thing called Super Bowl 50. Let me refresh your memory: black-and-gold bodysuit, killer dancers in "Formation," and a strong message from the previously impossible-to-hate Beyoncé that Black Lives Matter. Which didn't sit well with some, who spoke out against the Queen with calls for a boycott. Did this bother our Queen? Well, read on to find out how to get Beyoncé's Boycott Beyoncé t-shirt, because that's how our girl answers the haters.
The new "Boycott Beyoncé" t-shirts were made available for the first time at Beyoncé's concert in Miami's Marlin Park on Wednesday, and, while the t-shirts are only available on the "Formation" tour at this point, hopefully she will release them on her website soon enough. They were sold in the merchandise tent (alongside satin jackets, oh my God) for $45, and the BeyHive was justifiably proud of its Queen's brilliant response to critics. The t-shirts represent a deceptively coy bit of nose-thumbing by Queen Bey, presumably aimed at the backlash from certain police organizations who led the charge to "Boycott Beyoncé" after her performance at Super Bowl 50.
The criticism came after what some felt was Beyoncé's blatant "anti-police performance" of her new song "Formation" at Super Bowl 50 on Feb. 6, not to mention her controversial video showcasing the Queen lounging atop a sinking police car in New Orleans.
In an interview with Elle magazine, Beyoncé clarified that she was in no way anti-police:
I have so much admiration and respect for officers and the families of officers who sacrifice themselves to keep us safe. But let's be clear: I am against police brutality and injustice. Those are two separate things. If celebrating my roots and culture during Black History Month made anyone uncomfortable, those feelings were there long before a video and long before me. I'm proud of what we created and I'm proud to be a part of a conversation that is pushing things forward in a positive way.
How apropos that the t-shirts went on sale for the first time in Miami, where the Miami Fraternal Order of Police initially urged the boycott. They weren't fans of the #BlackLivesMatter theme or the back-up dancers who wore Black Panther style costumes. Beyoncé has remained silent in the midst to every ounce of controversy she has caused so far, except for that one mic-dropping t-shirt.
And it looks to me like Beyoncé is having more success boycotting Beyoncé than any of her haters ever did.
Leave it to Queen Bey to make lemonade out of some pretty lame lemons with the best tour merch anyone has seen in years.