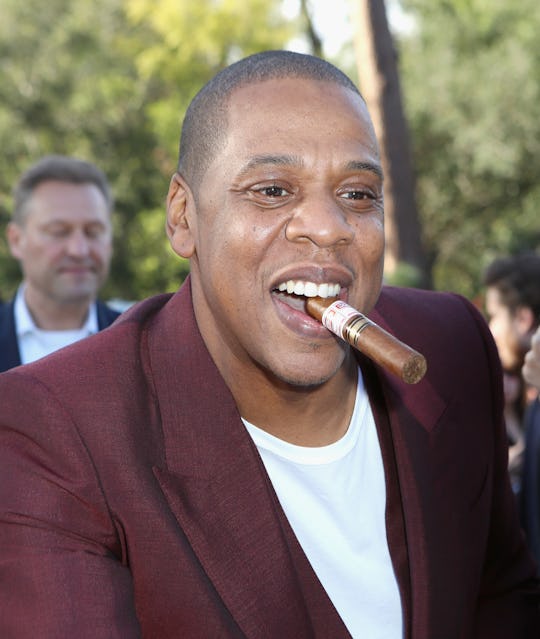 Ari Perilstein/Getty Images Entertainment/Getty Images
How To Get Cheaper Tickets To JAY-Z's '4:44' Tour
JAY-Z's album 4:44 might have only dropped recently, but fans are already going crazy for it. With his intensely personal lyrics, political activism, and, perhaps most importantly, a sick freestyling bonus track from daughter Blue Ivy, the hip hop mogul is on everyone's minds. Oh yes, he is also the father of the most famous twins on the planet with wife Beyoncé. The rapper has announced he will go on his first tour since 2013 (when he promoted his album Magna Carta), and tickets will go on sale Friday. But how does one get cheaper tickets for JAY-Z's 4:44 tour?
The first round of tickets have already gone on sale exclusively for TIDAL members, which makes sense considering JAY-Z is one of the founders of the music streaming service. For people who do not subscribe to TIDAL, tickets go on sale as of Friday morning. Tickets for the tour, which will see JAY-Z visiting 31 cities in North America starting at the end of October, start on the site at under $30 and continue on up based on where you are in the arena. Cheap (if you don't count having to cough up extra money for a TIDAL HiFi membership) but how do you get them cheaper? Well, people are already hitting eBay to sell tickets at drastically inflated prices (like this ticket for $550), so perhaps it's not the wisest idea to look for cheaper tickets just yet.
There might be a few websites offering pre-sale tickets, but they tend to be pretty pricey. One website, Ticketdown.com, is offering tickets for several venues across the country for $168-$267 per person. This could obviously work for people who don't want to sign up for TIDAL, but it's probably not going to get you cheaper tickets.
Your best bet? Honestly, hold off until the rest of the tickets are sold and then keep checking sites like Craigslist (where these two tickets are selling for $250). Groupon is another great site to grab cheaper tickets. And don't forget; social media is the mother of all things. Watch your Twitter feed and keep checking Facebook for potential cheap tickets to JAY-Z's tour. But really, if you want the cheapest tickets, maybe just get online as soon as they go on sale and try to snag the tickets that are about $30 (not including service fees). You might be in the nosebleeds, but it would be worth it.
Reviews for 4:44 have been glowingly positive, praising the once-egotistical rapper for his personal, starkly emotional turn on the album. Particularly the title track, which found the 47-year-old rapper apologizing for rumored past infidelities (which Bey had previously alluded to in last year's groundbreaking visual album, Lemonade).
In other words, whatever you might find yourself paying for concert tickets... the show will probably be a memorable one.