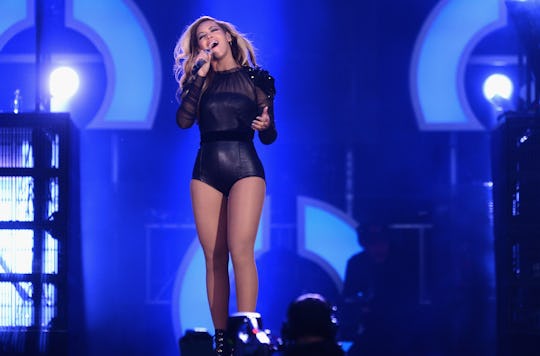 Ian Gavan/Getty Images for Gucci
How to Get Formation World Tour Tickets If They're Sold Out, Because You Can't Miss Beyonce
Took a digital detox desert trip for a couple of weeks and missed out on the sale of Beyoncé tickets? It happens. As a person who says "I missed the boat" far too often, I get it. But luckily, this doesn't necessarily spell the end for you and your Beyoncé dream. This is the age of the internet, so a sold-out event doesn't automatically mean you won't be going. Here's how to get Formation World Tour tickets even if they're sold out, because dammit, you're going to that show, you little ticket ninja, you.
Now, my usual recourse when I'm late to an event or concert bandwagon is to jump straight onto the Facebook page and beg anyone who has come down with either a flu or a case of visiting in-laws to sell me their ticket. It's risky, since a) people generally don't care, and b) there's some malevolent people out there who can take advantage of those with us being blinded by our FOMO. Luckily, there's some better options out there. So when the Formation World Tour tickets eventually sell out — which they will — remember, you've still got a couple of options tucked in your back pocket.
Just tell your friends you've got connections.
Your best bet is likely a secondary ticket seller. You've likely heard of StubHub — this is where they come in, although they're far from your only option. Check out TicketFeeder, which screens all ticket sellers, offers a 100% guarantee, and claims to have the largest online database of tickets. Similar sites include StubHub and Viagogo, which are all pretty solid options. You'll end up paying a little extra — usually around 15 percent — but that beats getting scammed out of $100+. And not seeing Beyoncé.
To avoid those fees, though, you can look around a peer-to-peer ticket website. Places like Cash or Trade don't markup their prices, and you deal directly with whoever is selling their tickets. Now, before you start rolling your eyes and saying that's no better than Craigslist, here's the catch. People are rated after each sale, so avoid people with low or nonexistent ratings and stick to people with a proven track record. Ta-da! Bey tickets.
If you do resort to buying tickets from a random on Facebook or Craigslist, remember that paper tickets trump PDF tickets, which can be "sold" as much as someone wants — i.e., that Craigslist guy that told you he was selling his ticket since he and his girlfriend broke up? He may have said the same thing to 10 other people, taken everyone's money, and ghosted. Whoever gets to the venue first will get in, and the rest of you will dismally have to walk away.
Finally, if you resort to Facebook, make sure their profile doesn't only have one picture and that they have more than a handful of friends. Social networks can be pretty reliable for this sort of thing if you look for some obvious signs. Good luck with nabbing those tickets, and when your friends ask how you got them, just channel your inner badass Beyoncé and wink.