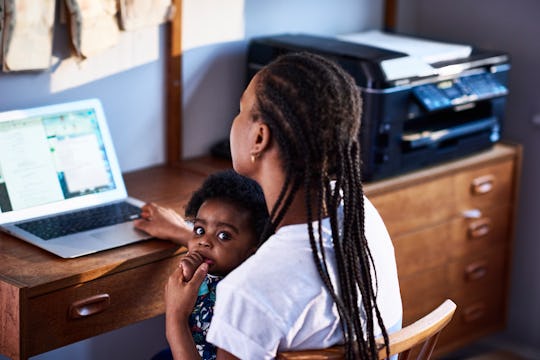 10'000 Hours, Getty Images
How To Get Help If You Lost Your Job Because Of The Coronavirus Pandemic
The Coronavirus has been catastrophic for so many families and in so many ways. From those who got sick themselves (or sadly lost a loved one), to those struggling to manage child care, COVID-19 has affected almost everyone's way of life. But if you're one of the millions of people looking for work right now, you should know there are ways to get help if you lost your job because of the coronavirus, so that you don't have to struggle alone.
The stats are truly sobering: 24.2 million people in August were unable to work because their employer shut down or lost revenue specifically due to the pandemic, according to the Bureau of Labor Statistics. While this is a decrease from the 31.3 million people in July who were unable to work, it's still a significant portion of the population.
Being unemployed is certainly scary, but having to contend with the problem of looking for work during a pandemic can make matters even worse. Still, there's always hope. Aly Brine, a career alignment coach, suggests using this time to discover what it is that you really want to do in order to make the most of your job search. "Taking the time to get to know yourself and what you want in your career is going to set you apart from other candidates when having conversations with networking connections," she advises in an email to Romper. There are many ways in which you can find work, supplement your income, or even receive food and baby supplies until you're gainfully employed once again. Here's how.