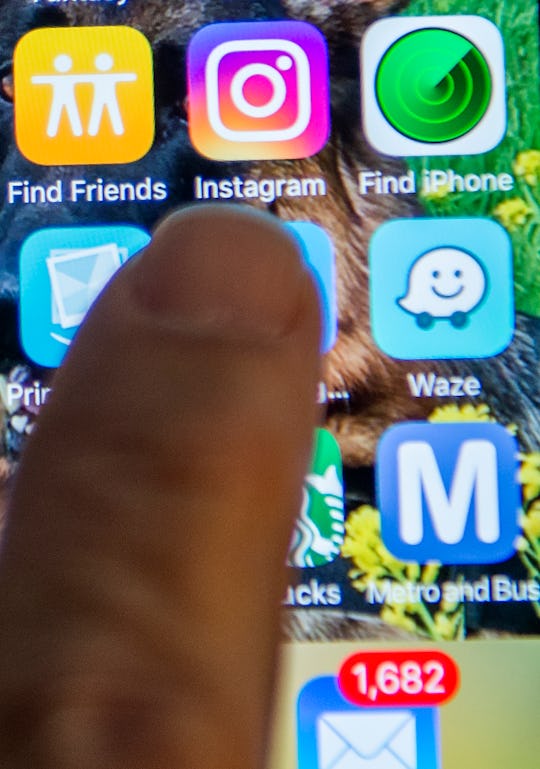 ANDREW CABALLERO-REYNOLDS/AFP/Getty Images
How To Get More Instagram Stickers
Stealing Snapchat's thunder yet again, Instagram added a new feature to its stories in December. In addition to being able to post the temperature, time, and your location to your story, the app offered the opportunity to add some festive stickers to your story. If you've been tired of seeing the same old holiday figures over and over again, you're likely wondering how to get more Instagram stickers.
Seeing as stickers are still a relatively new Instagram feature, Instagram will likely add more stickers in the future. Currently, though, just a few of the sticker options are permanent: The aforementioned temperature sticker, the time sticker, and the location sticker. Once these stickers are added, though, their formats can be changed. There's a standard location sticker which, when tapped, turns into purple-gradient text with a white background. The temperature sticker can be translated into both Fahrenheit and Celsius, with weather-appropriate symbols also available in a couple of different forms. As for the time sticker? Tapping on the time switches the sticker from two different digital readings to an analog one.
Instagram's holiday stickers featured menorahs, snowmen, and a few other happy characters. Post-holiday, though, these stickers have disappeared. Emojis and the time, temperature, and location stickers remain, but the festive Instagram stickers appear to be no longer. Maybe Instagram stickers are going to be a holiday-specific treat from here on out, so we can (hopefully) expect some Valentine's-themed stickers in February? Either that or you better start practicing your Instagram doodles now; You've got a little over a month to perfect your craft.
Personally, I'm not sure I'll use Instagram stickers when or if they do become available. Currently, I don't use Snapchat stickers, seeing as there are already so many Snapchat options to weigh, from color filters to geofilters to face-altering filters, not to mention typing out text captions and then illustrating your creation with multi-colored scribbles. What I appreciate about Instagram Stories is its simplicity— well, that, and the ability to tag friends in your stories. Stickers aren't totally complicating my Instagram Stories relationship, but I can't really say that they're filling any sort of void.
As with most Instagram Stories updates, stickers wasn't the only new addition. Users can now shoot video hands-free and are also able to download their stories into an archived, video format. With all of these changes to Instagram Stories seems that, overall, Instagram is trying to please its user base both by using some of Snapchat's best features and by developing some new features of its own. If you're stoked on stickers, though, more power to you— you just might have to wait for another holiday to actually get the chance to use them.