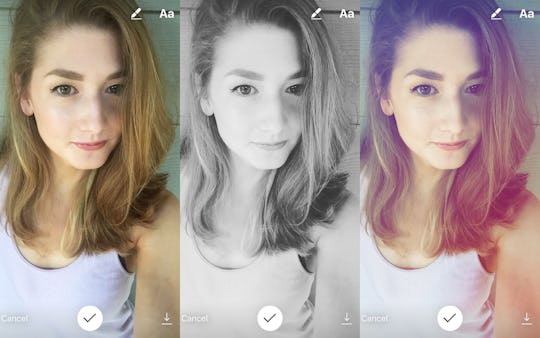 Courtesy of Cameron Norsworthy
Which Instagram Stories Filter Should You Use? Here Are All 6, Side-By-Side
An unabashed Instagram enthusiast (@camstuhgram omg follow me), I was initially wary of Instagram Stories. I gotta keep my follower/following ratio high (1k club here I come!) and this whole "Stories" caveat really threw me for a loop. Whereas I'm super hesitant to post on my own Story, I've been practicing. That's right, I've been conducting my own market research: photo versus video, caption versus none, and, of course, frequency. Today, I thought I'd investigate filters. On Snapchat, there are definitely favorites, but which Instagram Stories filter should you use?
I set out with a simple task: compare filters, weigh pros and cons, and streamline my own process so, when I post a real Story, I'll be ready. I tested out the filters three ways: a selfie outdoors, a selfie indoors, and a photo of my dog, Gladney, because dogs are social media gold. With Instagram Story's six filters (yeah that's right, Snapchat, SIX!), I felt #blessed at times and #disappointed at others. My biggest piece of advice for filtering (and taking yoga)? Set an intention. You can't haphazardly filter; the possibilities will consume you. Do you want glowy skin? Look for that. Want your eyes to pop? Then filter with that aim in mind. It will save you so much time, I assure you.
Now come with me as we delve a bit deeper.
Unfiltered
I honestly never thought I'd post unfiltered selfies on the internet but here we are, all three of us, serving the greater good. These initial images serve as a benchmark. On the far left we have the "Outside" photo, in the middle is "Inside," and lastly is Gladney, who is a dog if you were unaware. On we go.
One: Subtle Glow
Sigh. A filter! I'm feeling more like myself already. There's a noticeable difference in the Outdoor image—my skin looks clearer, and all without that creepy thing where Snapchat alters my jaw and nose shape! The Indoor image is the same, if not a little more orange. Gladney has a bit of highlight to her in this photo compared to the last.
Two: Washed Out
All three of us are looking paler here, but with more even complexions. It's makin' my eyes and highlights pop which has me feelin' some type a way. I think it works best on the middle image. Verdict: Excellent indoor filter.
Three: 'Clarendon' Part Two
Some of the Story filters have overlap with Instagram filters and what we have here is "Clarendon;" I'd recognize her anywhere. In the outdoor photo my hair's a bit green but so are my eyes so we'll call it even. Indoor, we're brightened up some, in a yellow-y, not orange-y way. This one's also brought out some gorgeous, red undertones for Gladney.
Four: Great For Dogs
Upon cross-referencing, I don't think this filter has an exact O.G.-IG counterpart. Kind of "Gingham," kind of "Reyes," but not quite. I dub this a winter filter. I need no assistance looking washed-out, so this is an Outdoor pass from me. Indoor, I could swing it, because my eye bags are gone. This might be my favorite filter on Gladney; it gives her bone structure some incredible dimensions.
Five: 'Moon' The Sequel
All apps need at least one black and white option. This one's Instagram's "Moon," replete with high exposure and little contrast or depth. Gladney's stunning, dark features are not well-captured here, which is disappointing. This filter's for your friend who went to art school for film but still hasn't shot a film. He's gonna use this one a lot.
Six: When All Else Fails
This is the filter you'll choose when you can't decide between the other options. The political equivalent of voting for a third-party, this choice has no significant outcome. It's psychedelic, it's silly, it's fun, and if you find yourself halfway through a pitcher of margaritas, odds are you'll speed-swipe to the end because there are no consequences for selecting something that renders you awash in an IG-themed rainbow.
I hope this has helped soothe your worries about Instagram's latest update. Change can be a good thing, remember that! Mess around like I did to find out which filters fit your needs and, I mean, while you're there, FOLLOW ME (@camstuhgram).