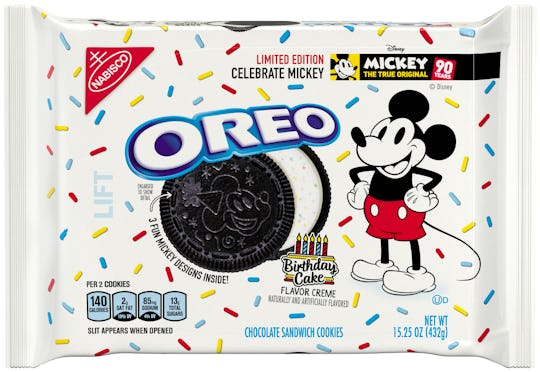 Courtesy of Oreo
OMG Mickey Mouse Oreos Are Here & Our Childhood Dreams Have Finally Come True
The lifespan of the average mouse is only one to three years. But Mickey Mouse is no average mouse — so you really shouldn't be so surprised that the little guy is turning 90. In honor of the milestone, Disney and Oreo teamed up to release special Oreos to celebrate Mickey Mouse's 90th birthday — and they sound so yummy.
The limited-edition treats feature classic chocolate cookies on the outside, but with a few twists. Three different Mickey designs are printed on the cookies — there's a party horn, a "90," and Mickey Mouse's face, ABC News reported. Each cookie is filled with a confetti birthday cake stuffing, according to Parents. The cookies will be available in stores all across the United States beginning Monday, Sept. 24.
Some lucky Disney fans managed to snag a package of Mickey Mouse Oreos a few days early, including YouTuber Lamarr Wilson, who shared his taste test of the dessert on YouTube. "OK I see you! ... So it tastes like a regular Oreo, but it has that birthday cake frosting flavoring," Wilson said after taking his first bite. "These are good!" he declared, adding that even though weren't his favorite, he still really enjoyed them. Wilson also noted that the cookies are available at Target.
Mickey Mouse made his first appearance in the short film Steamboat Willie, which premiered at the Colony Theater in New York City on Nov. 18, 1928, according to the Museum of Modern Art's website. The date is now observed as Mickey's birthday, so if you plan on celebrating Mickey becoming a nonagenarian come Nov. 18, you may want to stock up now, since the cookies will only be available while supplies last, ABC News noted.
If you can't get your hands on the Mickey Mouse Oreos for whatever reason, fear not — there are plenty of other ways to celebrate Mickey's birthday this fall. Disney also teamed up with luxury candy company Sugarfina to release a limited-edition collection of candy inspired by the iconic mouse, Good Morning America reported.
And as seen on Sugarfina's website, the collection is filled with sooo many goodies. There are chocolate bars (milk, dark, and white), which are each covered with red, black, and white Mickey Mouse-shaped sprinkles, sold for $9.95 each. There are also three kinds of gummies: strawberry-flavored mouse ear-shaped gummies, berry-flavored button-shaped gummies, and cake-flavored glove-shaped gummies, sold for $8 each. And if you want all six desserts in addition to two collector bento boxes — one of which is shaped like Mickey's head, and the other like a vintage television set — you can order the entire collection for $118.85. That sounds like a price tag for a serious Disney fan.
If you live in New York, the city where Mickey debuted back in 1928, you can celebrate the character's big day at an art exhibition, Good Morning America reported. In November, Mickey: The True Original Exhibition will open at 60 10th Avenue in Manhattan. The "immersive experience" will chronicle art and pop culture that was inspired by Mickey Mouse over the past nine decades, according to Disney's website. The experience will run from Nov. 8, 2018 through Feb. 10, 2019, and tickets are $38, and only available in advance, via the website. But if your kid is a Mickey fan, you may be in luck — children 3 and under can get in for free. Additionally, a pop-up shop will be attached to the museum, with free entry.
And if you have the honor of being in a Disney park in the next few months, you can attend the World's Biggest Mouse Party, which is a series of celebratory events at parks all around the world, according to the Disney Parks Blog. Additionally, Ravensburger is releasing a world's largest Mickey Mouse jigsaw puzzle, made up of 40,320 pieces, Newsweek reported. Wowza!
It sure sounds like Mickey Mouse's birthday is going to be an extravaganza. I can't wait to see what Minnie gets him.