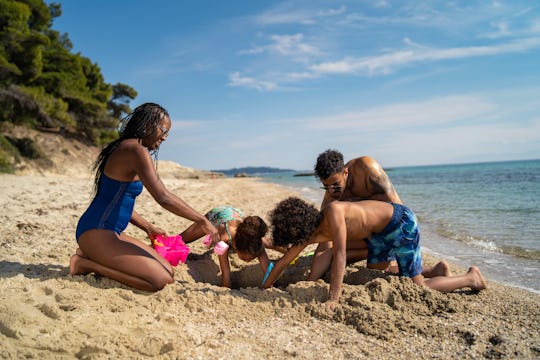 Johnce/E+/Getty Images
How To Get Sand Out Of Your Car, Because The Next Stop Is Your Bed
It doesn't get better than a day at the beach with the family... until it's time to trudge back to the car, sunburned and cranky, arms full of wet towels and legs covered in a thick crust of sand. Somehow, kids always manage to drag half the beach back home with them. So how do you get sand out of your car? Because if there's sand in your car, it'll get tracked in the house (and if it gets tracked in the house, it's definitely ending up in your bed).
"You definitely want to try to minimize the amount of sand that comes into your car," Paula Spinelli, a 20-year cleaning expert with Merry Maids, tells Romper. "But at the same time, you don't want to ruin your day thinking about how much sand you're going to find in your car, either." Chances are, no matter how hard you try, those pesky grains of sand are going to make their way into your car. Worst case scenario: The kids run ahead and get to the car before you do. (Everybody knows what happens when those water shoes don't get dumped out before you get in the car.)
No matter how much sand you're dealing with, these tips from the pros will get your car clean again — except for those crumbled up Goldfish crackers, of course.