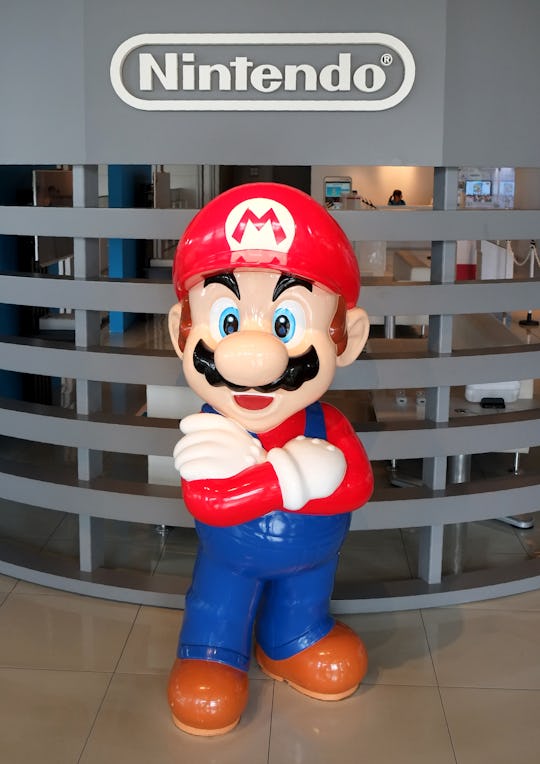 KAZUHIRO NOGI/AFP/Getty Images
How To Get Super Mario Run, The Latest App To Get Everyone's Attention
2016 felt like a year of lessons. Lesson one: Don't skip out on voting, because you never know what's going to happen. Lesson two: Leggings are just never going away and we are all very okay with that. And lesson three: We all just want to go back to being kids and playing video games. Preferably in leggings. The latest Super Mario Run all is proving to be another obsessive craze that is hitting us all right in the nostalgia bone. Because growing up really sucks.
Super Mario Run was launched on Thursday and already the internet is like, finally! Nintendo has been famously stingy about sharing their characters on anything other than any of their own gaming systems, so for them to make our beloved Mario available on iOS is a pretty big deal. Users can download the app on to their iPads and iPhones for free from iTunes, as long as they have an iOS 8.0 or later. It will cost 10 dollars to unlock the full game, but really, what's 10 dollars for hour upon hour of good clean Mario fun? Nintendo describes Super Mario Run as a game you can play with one hand:
In this game, Mario constantly moves forward through the courses while you use a variety of jumps to navigate. Mario will behave differently depending on the timing of your taps, so it's up to you to show off particularly smooth moves, gather coins, and reach the goal.
Super Mario Run was the top grossing download in five countries within seven hours of it's Thursday release, according to the Sensor Tower blog, with 20 million downloads on the first day and climbing. If the app continues as it began, it is set to gross more than 70 million dollars within it's first month of existence. Sensor Tower also estimates that Super Mario Run could hit 70 million downloads by the end of the month; which would be 56 percent more than the wildly popular Pokémon Go, the original flashback app that found 90s kids wandering the outdoors hunting Pokemon this summer, just like when they were younguns.
So there is this one little, tiny drawback to Super Mario Run; you're going to need an internet connection to play it. Which could mean bad news for your data plan. Mario creator Miyamoto recently explained to Polygon:
For us, we view our software as being a very important asset for us. And also for consumers who are purchasing the game, we want to make sure that we're able to offer it to them in a way that the software is secure, and that they're able to play it in a stable environment. This is something that we want to continue to work on as we continue to develop the game.
Internet connection notwithstanding (and let's get real, winter is here which basically means WiFi and couch for three months), Super Mario Run is shaping up to be a great way to kill time and feel like a kid again. It's a win/win.