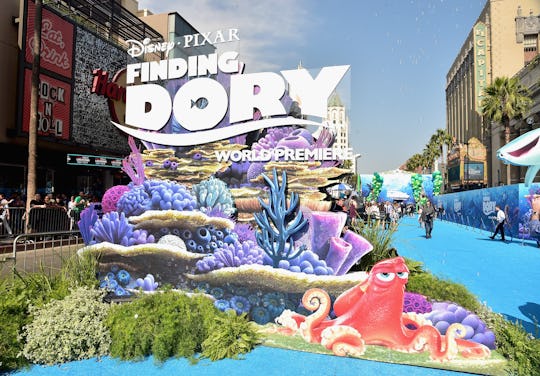 Alberto E. Rodriguez/Getty Images Entertainment/Getty Images
How To Get The 'Finding Dory' Soundtrack & Just Keep Singing
In just two days, Walt Disney Pictures and Pixar will release the Finding Dory, the highly anticipated sequel of Finding Nemo — a film Disney fans have been waiting 13 years to see. Talk show host Ellen DeGeneres totally stole the 2003 film with her voice acting as Dory — the blue tang fish who has basically no short-term memory. DeGeneres is back again in this next installment under the sea. With word from Walt Disney Records on Thursday that they would release the complete original soundtrack, fans already want to know how to get the Finding Dory soundtrack.
There's no need to hitch a ride with Crush and the sea turtles on the EAC — East Australia Current for those of you who don't remember — the Finding Dory soundtrack will be widely available on Friday, the official opening date of the film across the United States. You can pre-order the Finding Dory soundtrack from all the major online retailers as digital versions from Amazon, iTunes, and Google Play; they're all hovering around the same $12 pre-order price point.
If you want your hands on an actual physical copy of the Finding Dory soundtrack, you can check out brick and mortal stores like Barnes & Noble, Target, and Walmart — but you'll have to wait until Friday before you can pick up your soundtrack CD in store.
Disney and Pixar have brought back Thomas Newman, the composer for Finding Nemo, for which Newman received an Oscar nod. Speaking to The Pixar Post, Newman talked about what goes into composing soundtracks for film: "I liken music to makeup on a face: At its worst, it's garish and overdone. At its best, you don't notice it and it brings out the best qualities."
Ever since the release of the new Finding Dory trailer in March, fans have been pumped for the next installment in the Finding Nemo universe. When the ever eclectic Sia performed "Unforgettable" on The Ellen Show — the end credits single and Finding Dory theme song — Disney fans got even more pumped for the film and the original motion picture soundtrack. You can check out Sia's interesting new take on the Nat King Cole classic crooner tune below:
There's just something about Sia's rendition of this amazing tune and listening to it while thinking about the context of the film — that Dory travels to find the family she forgot — well, the song gives me ALL the feels. If "Unforgettable" is any indication of how awesome the rest of the soundtrack is going to be, I can't wait to get my hands on it as soon as I can. Finding Dory opens in theaters everywhere on Friday.