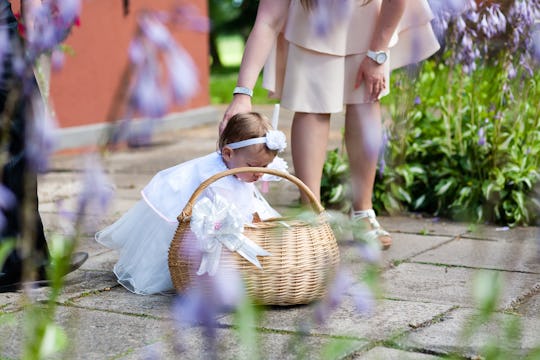 Shutterstock
Getting A Flower Girl To Walk Down The Aisle Can Be Tricky — These 8 Tips Can Help
If there's one person with the power to upstage the bride at her own wedding, it's the flower girl. Diminutive and decked out in an adorable dress, the she's a total scene-stealer, whether things go according to plan or not. If you're gearing up to rock your own bridal runway look, you've got to make sure you've got a solid plan to get your flower girl down the aisle without a hitch, and avoid her freaking out and freezing right before your big moment.
Typically, the flower girl and the ring bearer are the youngest members of the bridal party, walking out right before the bride. And when these precious people toddle down the aisle, it's truly the ultimate photo op. But it's also ripe for disaster, since you never really know how a kid or toddler is going to handle an audience, the cameras flashing, and all that attention and energy focused on them. "It can be a real challenge to get the flower girl to walk," says Eileen Smith, a wedding and events planner based in Connecticut. "When they're under the age of 4, it's more difficult, since they don't know what's going on."
To avoid your girl from throwing a major tantrum, sobbing, and just generally refusing to walk, adopt these hacks for getting her all the way up the aisle.