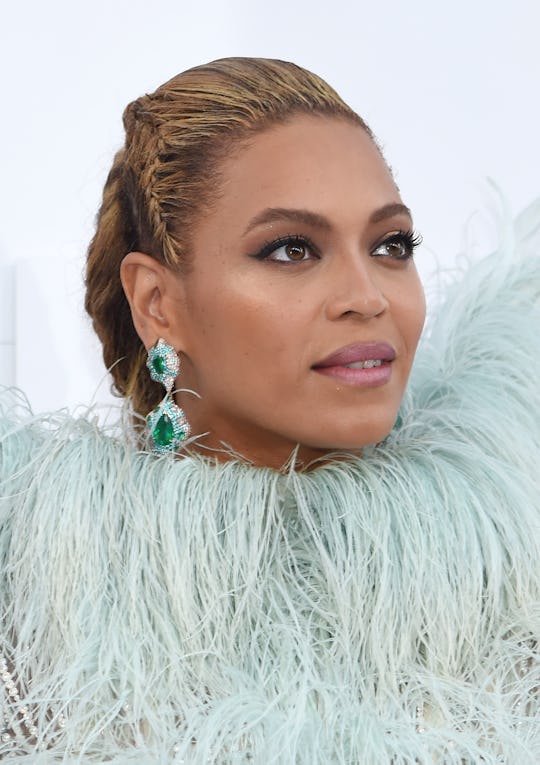 Larry Busacca/Getty Images Entertainment/Getty Images
Want To See Beyoncé At Coachella? Yep, You Do
I have this theory that there will come a time when seeing Beyoncé's name in your newsfeed won't actually cause your face to immediately explode. Some day it will be like, Oh yeah, her. She's alright. That day is obviously not going to come for at least 50 years, but it will happen, I promise. After Beyoncé announced she was pregnant with twins on Feb. 1, she has been owning the news. Everyone is desperate for even the slightest glimpse of her, which could make getting tickets to see Beyoncé at Coachella are going to be hard to come by. Maybe even harder than before.
There was some slight concern when Queen Bey shattered the internet with news of her impending twins (also known as the shining beacons of hope we are all pinning our dreams to, no pressure), not because we weren't all over the moon for the Carter family, of course. It was just a little worrisome that Beyoncé might possibly cancel her headlining performance at both Saturday shows (April 15 and 22 respectively) due to her delicate condition. Those people clearly forgot what a badass Beyoncé truly is, because TMZ recently reported that Queen Bey is still set to perform as the first black woman ever to headline at Coachella. So... yeah, this is on. With some people hanging out in her womb, no less.
So the good news is that, at this stage in the game, Beyoncé is still set to perform at Coachella. We don't know exactly how far along she is in her pregnancy (although judging from her photo shoot, she looks to be around the four or five month mark), but for now, she's still in.
Now here's the bad news; as I'm sure you've already suspected, the tickets aren't cheap. Or all that readily available. Passes for Coachella (which happens over two weekends in Indio, California) went on sale on Jan, 4, with the prices starting at $400 per ticket. Passes are no longer available through the official Coachella site, so your options are dwindling.
If you're willing to fork over some serious dough, you can try outlets like stubhub, who are offering tickets for the weekend of April 14 for $555 per person (that's without parking, or shuttle passes, and there are no camping passes left). Or you can try entering the social media contests.
But maybe your best bet is to wait. People who have already bought their tickets are starting to panic about the potential loss of Queen Bey as a headliner, and might be willing to offload their tickets. Patience is a virtue... as is faith in Beyoncé.