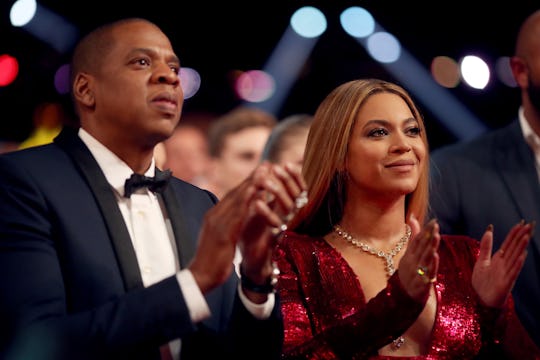 Christopher Polk/Getty Images Entertainment/Getty Images
Beyoncé Confirms OTR II Tour With JAY-Z, & Here's How To Get Tickets *ASAP*
Ever since Beyoncé and JAY-Z hit the road for their first joint tour, On The Run, fans have been wondering when they'd join forces again. Well, it looks like that day has finally arrived, because Beyoncé took to Instagram on Monday to confirm that OTR II (On The Run II) is happening. What a great way to start the week, right? Of course, many people want to know how to get tickets to On The Run 2, because the event will undoubtedly be spectacular. The good news is the process is pretty straight-forward.
Beyoncé and JAY-Z's first installment of On The Run kicked off in June 2014 and ended in September 2014, according to The New York Times. For a few blissful months, Beyoncé and JAY-Z performed some of their greatest hits for millions of fans, like "Crazy In Love" and "03 Bonnie and Clyde," to name a few. To make matters even better, parts of the iconic tour were filmed and the footage debuted on HBO in September 2014. The special, On the Run Tour: Beyoncé and Jay-Z, also earned an Emmy nomination for Outstanding Special Class Program in 2005. To put it mildly, everything about the original On The Run tour was 100 percent fire.
And given how amazing the first On The Run tour was, it's no surprise that people freaked out when Beyoncé casually took to Instagram on Monday to confirm the rumors that OTR II is actually happening. The exciting post, that already has close to 900,000 likes, depicts Beyoncé perched on top of JAY-Z, who happens to be riding a motorcycle adorned with an animal skull. As for the pair's expressions in the black-and-white snap, they appear wistful and contemplative. Très artistique, no?
But when can you start buying tickets for this coveted event? Beyoncé's post offered zero details, because of course.
Get prepared, Beyhivers, because pre-sale tickets will be available on March 14 and general public sales will go live on March 19, according to a press release courtesy of Live Nation. For people interested in pre-sale tickets (this might be the best option for Beyhive disciples), you'll need to be a Citi cardholder, Tidal subscriber, or member of Beyonce.com's Beyhive group to get a head start. You can register for the Beyhive here or subscribe to Tidal here.
Once you get access to one of these three groups (joining Tidal or the Beyhive is probably easier than opening a line of credit, tbh), be sure to note exactly when the pre-sale for your group will go live. For Citi members, the pre-sale for performances in the United States and Europe will begin on Wednesday, March 14 at 12 p.m. through Saturday, March 17 at 5 p.m., according to Variety. For performances in the United Kingdom, Sweden, and Poland, Citi cardholders can get pre-sale tickets on Monday, March 19 starting at 12 p.m. through Thursday, March 22 at 5 p.m. Lastly, Tidal subscribers and members of the Beyhive will be able to purchase pre-sale tickets for North American tour dates starting at 9 a.m. local time, while European tour dates will go live at 10 a.m. local time, according to POPSUGAR.
If you like to live life on the edge, tickets will be available to the general public via Live Nation and other similar venues on March 19. As for the North American tour, it will begin on July 25 and end on Oct. 2.
Additionally, if you have any questions about pre-sale tickets, visit Tidal.com, Beyonce.com, and Citiprivatepass.com for more info.
Naturally, the internet is already abuzz about ticket sales. And for some, the struggle to procure tickets is all too real.
Others are just *thrilled* that pre-sale is a thing.
But most of all, people can't wait for the tour to start.
The main takeaway here is that Beyoncé and JAY-Z's fans are beyond ecstatic to witness the duo take the world by storm once again. And if you want to see the magic happen in person, be sure to mark your calendars for the aforementioned dates, because this an event you won't want to miss.