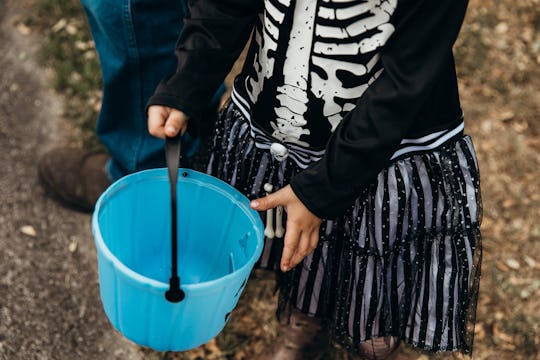 LOUISE BEAUMONT/Getty
Tongs, Candy Chutes, Ziplines, & More Ways To Safely Hand Out Halloween Candy
Spooky season is here, but you may be wondering if it'll be quite as fun as usual this year. While every city and county will differ on their safety guidelines for Halloween 2020, those who want to give out candy should think ahead about how to hand out candy safely during COVID. Once your city announces its trick-or-treating rules — and you assess your personal risk level — you can decide the best way to hand out candy this year.
Hershey partnered with the Harvard Global Health Institute to create a resource for parents of trick-of-treaters and those who want to give out candy. Their website includes an interactive map where you can click on your county and learn which "zone" of COVID risk you're in based on the average number of cases emerging each day. Then, you'll find recommended Halloween activities for your zone.
However you decide to dole out candy, do your best to mix COVID precautions with some haunting Halloween spirit. Some solutions to safe trick-or-treating will take a little more preparation than years past (think: building a candy chute instead of just dumping all those mini chocolate bars into a bowl). But by going the extra mile to keep your neighborhood children safe, you're helping them get back a little bit of normalcy in 2020.