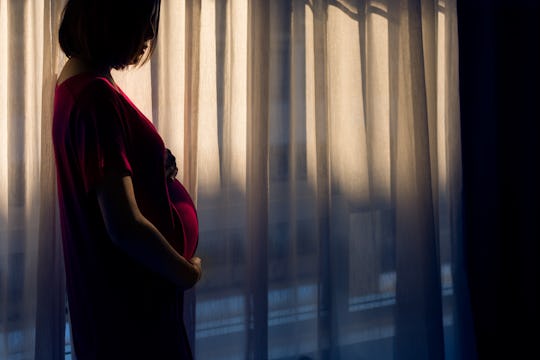 Shutterstock
How To Handle A Breakup When You're Pregnant, According To Experts
Just like the old song goes, breaking up is hard to do. Now imagine going through it with a big old belly in tow, too. But life happens sometimes, and you might find yourself having to figure out how to handle a breakup when you're pregnant. While it might not be the most pleasant thing to do during your nine months, it might actually be the best thing for you and your baby in the long run.
Here's the thing about pregnancy. Although it can be an emotional roller coaster at times, it can also bring tremendous clarity to your life, too. You see what makes sense in your life — and what doesn't. And you might realize that your relationship is no longer working for you (or maybe you already knew it all along but didn't want to acknowledge it). So kudos, momma, because making the decision to end things during what truly is a vulnerable time in your life shows how strong you really are.
That said, parting ways still isn't an easy decision to make. "Breaking up with your partner when you are pregnant is a really tough decision," relationship expert Beth Sonnenberg, LCSW, tells Romper. "It is different than other break ups because you are going to still always be connected and probably remain in each other's life at some capacity as parents to your child."
If you're considering ending your relationship (or you've recently split up), these strategies will help you not just to survive the breakup, but thrive as well.