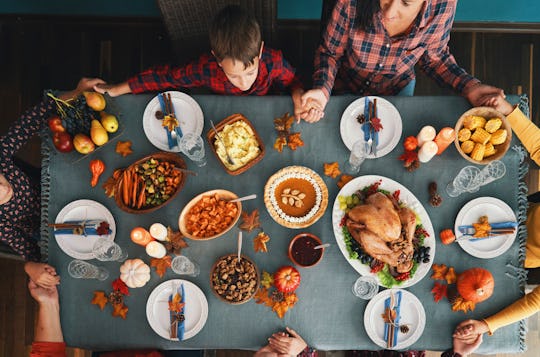 GMVozd/E+/Getty Images
Here's How To Have The Safest Family Thanksgiving Dinner Possible This Year
There's nothing more beautiful than having a bountiful table full of good food just bursting at the seams with family and friends on Thanksgiving. But while those close quarters might have seemed cozy on holidays past, this year it's all about personal space. Will COVID-19 crush your plans to celebrate this hallmark of a holiday? It doesn't have to, especially if you follow these tips on how to have a safe Thanksgiving dinner.
By its very nature, Thanksgiving is full of heart and hearth, when everyone (hopefully) has adopted an attitude of gratitude. But the ensuing love fest means that there's going to be more eating, hugging — and more chances for a potential COVID-19 spread. That's why the Centers for Disease Control and Prevention (CDC) are (womp womp) urging Americans to stay home this holiday season. "Thanksgiving is a time when many families travel long distances to celebrate together," the CDC website stated. "Travel increases the chance of getting and spreading the virus that causes COVID-19."
And while most Americans want to abide by the guidelines, well, come on, it's Thanksgiving. Mask fatigue is becoming a very real thing, and now more than ever, people want to be with their families after most likely spending many months apart. So if you're going to gather, you'll need to do so safely. Here's how.