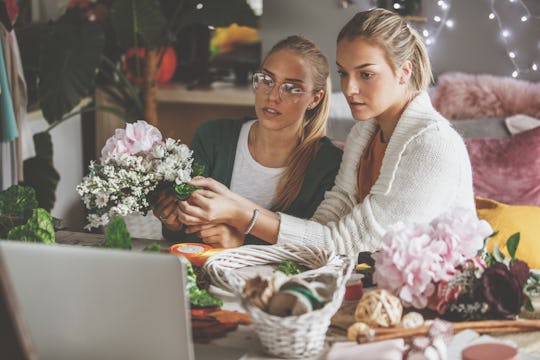 fotostorm/E+/Getty Images
Here's How To Get Creative & Keep Connected With A Zoom Crafting Night
The family and friends that craft together stay together. From sewing patches onto a quilt with your pals from college to having a Friday night family cookie decorating session with the cousins, crafting creates an undeniable connection between people... even when you're not physically in the same location. Once you know how to host a Zoom crafting night, you'll always have a way to stay engaged with loved ones (as long as they're crafty).
And it doesn't even matter if your local craft store is closed. "I would recommend that parents pick craft projects that use simple items that most people would have around the house," Crystal Garman of Simply Full of Delight tells Romper. By switching your mindset slightly, you can truly enjoy distance crafting with family and friends using super basic materials. Once you realize that you're still making art, in whatever form, and showing it to your loved ones, you'll see that the same creativity, laughter and love remains, even if you're each in your own homes.
So set a date and time to gather with friends and fam, have your art supplies (and your humor) handy, and get ready to craft some amazing artwork — and a connection that will endure despite social distancing.