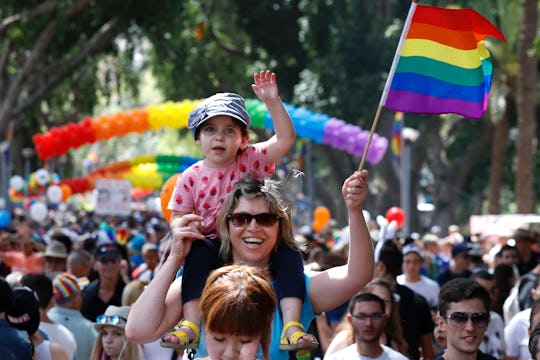 JACK GUEZ/AFP/Getty Images
How To Have Your Own Family-Friendly Pride Celebration
As if celebrating LGBT Pride Month wasn't important enough, the horrific event that unfolded in Orlando on June 12 has made it a must for everyone — especially parents. I can understand not wanting to take your child downtown to a parade where lots of people are having a lot of adult fun, but if you know how to have your own family-friendly pride celebration, you can still teach your kids the importance of LGBT Pride Month.
If there is one thing I want my daughter to know, it's that everyone around her deserves the same rights that she has. Nobody is inferior to her and no one should be denied life, liberty, and the pursuit of happiness because of their skin color, religion, gender, or sexual orientation. If I'm excited to teach my daughter all about African American History Month, then why shouldn't I do the same for LGBT Pride Month?
According to President Obama's proclamation making June 2016 LGBT Pride Month, the celebration has been created for Americans to celebrate diversity and to eliminate the prejudices against the LGBT community in this country. It's a month to unite with each other, to stand up for each other, and to recognize that the differences in all of us are what makes this country so wonderful to live in. Love is love and if you want to celebrate the fact that there are no boundaries to love, that everyone deserves equal dignity and respect, then it's time to celebrate LGBT pride with your kids.
However, it's understandable why the more adult-themed pride celebrations may not be appropriate for your family. But don't let that stop you from celebrating. Invite friends and family over for your own LGBT Pride Month celebration. Start the conversation with your kids about what it means to be oppressed, about tolerance for all, and that a person's sexual or gender orientation doesn't change their character or personality. With all of that in mind, plus these five ideas, you can create a family-friendly pride celebration that will do wonders for your children and you. Your kids are the future, so fill them with love and acceptance for all.