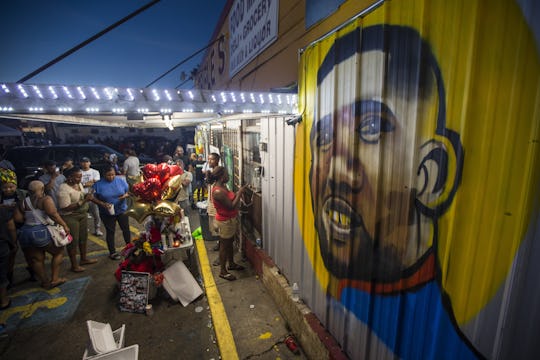 Mark Wallheiser/Getty Images News/Getty Images
How To Help Alton Sterling's Family In Their Time Of Need
When news broke of 37-year-old Alton Sterling's death at the hands of police officers in Baton Rouge, Louisiana on Tuesday, it was difficult to know what to do first. Action felt important for many people who were feeling beyond frustrated and angered. Sterling's death was caught on video, and it looked to be yet another case of police brutality and racial profiling. Protests and vigils were organized. Editorials were written. And many people were trying to figure out how to help the family Alton Sterling left behind when he died.
Sterling's death left five children in the world without a father, and unfortunately the video of his death (while documenting discrimination) means his children will be able to watch the events unfold before their eyes. They will see that their father was approached by police outside a Triple S Food Mart in Baton Rouge after someone called to complain about "a black male who was selling music CDs and wearing a red shirt threatened him with a gun." When police arrived on the scene they apprehended Sterling, bringing him to the ground. In the video, Sterling looks to be incapable of movement, but one of the officers is heard to be shouting, "He's got a gun!". Sterling was killed with "multiple gunshot wounds", according to an autopsy. The two officers involved in the shooting, Blane Salamoni and Howie Lake II, have been placed on paid administrative leave pending investigation.
When Sterling's oldest son accompanied his mother to a press conference and broke down sobbing for his father, one person in particular chose to take action. Issa Rae, an actress and writer, took to Twitter to float the idea of creating a scholarship for the children of Alton Sterling.
Rae, who wrote and stars in the popular web series Awkward Black Girl, contacted the family's lawyer and quickly set up a Go Fund Me page for Sterling's children. On the GoFundMe campaign page, Rae wrote;
If you feel helpless, but want to play a small part in easing the burden of #AltonSterling's family, consider donating to this scholarship fund for his 15-year-old son (and his other kids).*ALL* funds raised will go to Alton Sterling's family.
After just nine hours, the page had reached its goal of 200 000 dollars. It now sits at just under 500 000 dollars raised, and every dollar will go to the family.
The Go Fund Me page is still accepting donations, and you can donate here.
For people who can't afford to offer the family financial support, there are other ways to show you care. You can raise money for the family like Issa Rae did, because a one-parent family is difficult in the best of situations. Whether it's by spreading messages of love and kindness on social media. You can remember his name, remember him as a "jovial giant" who loved his family and spread joy to everyone he knew.
But perhaps most importantly, you can stay the course. We live in a world of distractions, of news coming in hard and fast every few minutes. So that the next issue erases the last, and soon enough we've forgotten. So for the sake of Alton Sterling and his family, let's choose not to forget.