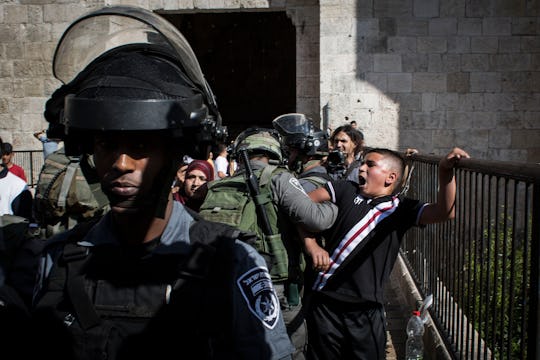 Ilia Yefimovich/Getty Images News/Getty Images
How To Help Damascus Bombing Victims
Twin suicide bombers attacked the historic city of Damascus, the capital of war-torn Syria, on Wednesday, killing at least 30 people. The first suicide bomber detonated himself inside the Palace of Justice, according to Al Jazeera; security guards attempted to disarm him before he dove into the building, which was full of judges, lawyers, and peacekeepers. The second bomber attacked a restaurant in the busy Rabweh district. There has been no claim for either attack. As Syrians continue to reel from the most recent spate of terror attacks, here's how we can help the Damascus bombing victims.
It has been six years since the civil war in Syria began. Seven years of terror, of bombs; of the constant spectre of death. These most recent bombings came on the heels of another set of twin bombings on Saturday in Damascus' Old City, according to Al Jazeera. Those bombs targeted Shia Muslim holy sites of worship, killing 40 people and wounding more than 100 more. Al Jazeera's Natasha Ghoneim, who reported from the Turkey-Syria border, noted that the bombing of sites in Damascus, where Syrian President Bashar al-Assad has his stronghold, have been relatively uncommon until recently.
We are talking about a very significant death toll … What is unique is that Damascus - which is President Bashar al-Assad's stronghold, he has firm support there - has been relatively safe. Attacks like this are not common.
There are a few ways you can help the victims of the twin suicide bombings in Damascus; the first would be to avoid apathy. It's easy to get overwhelmed by terrible news. From Syria in particular. But simply scrolling past stories of the atrocities happening in Syria as they pop up in your news feed, maybe with a shake of your head, isn't enough. We can do more.
International Committee Of The Red Cross
Red Cross has been working with local partner, the Syrian Arab Red Crescent, as "impartial" humanitarian aid. Monetary donations to the Red Cross have provided food, shelter, medicine... and hope.
Syrian American Medical Society
Donations given to the Syrian American Medical Society will not only offer financial and logistical aid to indispensable medical professionals in Syria, it also provides learning resources to Syrian medical students.
Doctors Without Borders
In the aftermath of two separate twin suicide bombings that have left hundreds injured in Damascus, medical professionals need a serious influx of supplies and support to care for the wounded. Doctors Without Borders is a globally respected medical relief community that has remained in Syria despite having one of their hospitals bombed in Aleppo.
Syria Relief
Syria Relief is a U.K.-based charity organization that raises funds for blankets, wood fuel, heating kits, and more.
The country of Syria continues to need as much aid as the rest of the world can muster. Until the war finally comes to an end, and the people of Syria can hopefully begin to rebuild their homes.