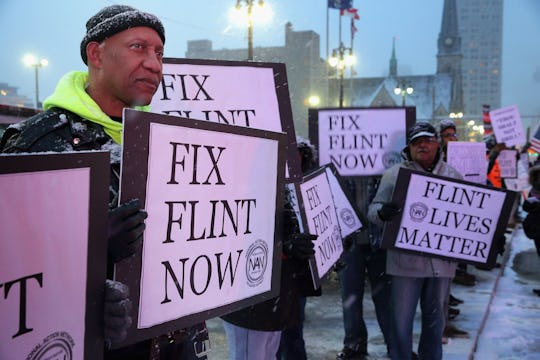 Chip Somodevilla/Getty Images News/Getty Images
How To Help Kids In Flint, Michigan, & Join The Fight Alongside Water Activists
The self-described "water protectors" of Standing Rock, North Dakota celebrated a major victory this week when the U.S. Army Corps of Engineers effectively halted the construction of the controversial Dakota Access Pipeline in that location, a project that protesters argued would threaten some Native Americans' drinking water. Among those who had streamed to the oft-contentious demonstrations were two veterans, from Flint, Michigan, a locale plagued by contaminated water — and now, Arthur Woodson and George Grundy II are returning the fight to their hometown, according to ABC News. The water crisis there erupted in 2014, and many residents still don't have clean, safe water. So, it's essential to know how to help the kids in Flint, Michigan, who are often most vulnerable to lead poisoning, and join the fight alongside water activists however you can.
The water situation spiraled in the city when the city switched the source of its water supply to save money, according to NPR. Old lead pipes ended up corroding as the new water flowed through them, as the water had not been properly treated. All those dangerous toxins ended up in the systems of residents, most notably manifesting in overexposure to lead in children, which is proven to cause lower IQ scores, poor school performance, inattention, impulsive behavior, aggression, and hyperactivity, NBC News reported.
Arrests have been made. Legislation to pump federal funds into mitigating and attempting to rectify this ongoing catastrophe is moving through Congress. Still, many residents continue to rely on bottled water and water filters to meet their basic needs — and as Woodson, Grundy, and the rest of the "Veterans for Standing Rock" who are now turning their attention to Flint know, it could stay that way for a long, long time if Americans don't mobilize to affect change and allocate resources to improving the residents' day-to-day.
But how?
Get Out That Checkbook
As is the case much of the time when people are in desperate need, money will make the biggest impact in Flint. The charities on the ground are working hard to address the myriad needs of the people of Flint, from making sure they have the bottles of water that are now, for many, a lifeline; to assuring that their medical, educational, and general well-being necessities are met. According to CNN, these organizations that are making this happen will happily accept donations: Convoy of Hope, the Flint Child Health & Development Fund, Save the Children, and the Flint Water Fund.
In addition, the Safe Water Safe Homes Fund will use donations to focus on replacing lead-tainted service lines in the city, prioritizing those that service homes of especially vulnerable populations such as very young children, pregnant women, and senior citizens.
Donate Bottled Water
If you're anywhere in or near Flint, you can drop off bottled water at two locations, depending on how much of it you're contributing, according to the city's website. Here are the details:
All Pallets and Cases of Water over 100: Food Bank of Eastern Michigan Address: 2300 Lapeer Rd, Flint, MI 48503; Call: (810) 239-4441 [and] ask for Tina Martinez, Director of Operations, to schedule a delivery.
Loose water cases (non-pallet and under 100 cases)Weekdays: Catholic Charities Address: 901 Chippewa St, Flint, MI 48503; Call: (810) 232-9950 to make arrangements for delivery.
Volunteer Your Time
Do this by simply reporting to the local Red Cross anytime between 9 a.m. and 7 p.m. Easy! You can even ask about getting older kids involved too, and show them how to help their peers suffering through the ongoing water crisis.
Put Pressure On The U.S. Senate
On Thursday, lawmakers in the House of Representatives voted to allocate $170 million in emergency aid to Flint, as well as other areas with contaminated drinking water, The Detroit News reported. The next and perhaps more difficult challenge is getting it through the Senate as well, as some senators have said they'll vote "no," over concerns over how the money will be spent, as dictated by a separate water infrastructure bill. Rep. Dan Kildee, who represents Flint Township, is imploring his colleagues in the Senate — most notably California Sen. Barbara Boxer, who's concerned about protecting fishery jobs and the "easing of environmental restrictions.
"... I've been fighting for my hometown and been told to wait and wait and wait," Kildee said on the House Floor recently, according to The Detroit News. "The people of my community can wait no longer."
So, anyone who agrees with Kildee could contact their U.S. senators for their state and let them know. It could make all the difference.
Let the people of Flint, especially those scared and tired children still living there, know you haven't forgotten about them.