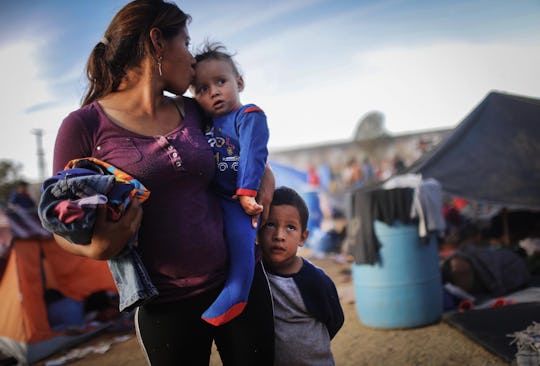 Mario Tama/Getty Images News/Getty Images
4 Ways To Help Migrant Families After They Were Met With Tear Gas At The Border
President Donald Trump has long been vowing to prevent Central American immigrants from crossing the border, but tensions escalated Sunday when about 500 people began to make a rush for the border crossing, according to The New York Times. In response, the U.S. Customs and Border Protection Agency closed the border between San Diego, California, and Tijuana, Mexico and reportedly launched tear gas into the crowd, which included children and families. Wondering how to help migrant families and children after they were met with tear gas at the border? While there may not be any straightforward solutions, there are certainly steps we can all take.
It's no secret that taking action against the migrant caravan has been a priority of the Trump administration in recent weeks. Thanks to violence and poverty in their home countries, about 10,000 people from Central America have been attempting to seek asylum in the United States, according to NBC News, and many have been traveling in various caravans in hopes that moving as a group will make the dangerous journey somewhat safer.
But the president has made it clear he does not at all support the effort — on Twitter, he has referred to the caravan as an "invasion" full of "stone cold criminals," and has since deployed more than 5,000 troops to the border. But for the families traveling with young children, it's meant that their attempts to keep their kids safe has become increasingly more difficult.
So if you're wondering what you can do to help right now, here are a few ways:
Support Organizations That Are Helping Migrant Children
Like with the earlier outrage over the Trump administration's family separation policy, it can be easy to feel helpless when we see heartbreaking images of children in need circulating on social media — especially when there seem to be so many people who want to argue that these political decisions are entirely warranted. But it's important to also remember that there are many people on the ground advocating for these asylum-seekers and doing incredibly valuable work. So instead of feeling frustrated, we can at least help support the organizations and charities already working tirelessly to protect families and kids as much as possible.
Some great options for your much-needed donation? Even before the tear gas, according to HuffPost, organizations like UNICEF have been working to offer clean drinking water and essential items to asylum-seekers an in attempt to help the increasing number of children who are becoming ill due to contaminated water, or to dehydration.
But it's not just their physical health and safety: UNICEF is also emphasizing that the children in the migrant caravan are "showing signs of anguish and psychosocial distress," and are in need of major support for their well-being (just as we'd expect for our own children here in the United States).
You can make a donation to UNICEF here, although there are a number of other important organizations worthy of checking out, including Pueblo Sin Fronteras, the immigrant rights organization that organized the caravan, and the Save The Children's Border Crisis Relief Fund.
Educate Yourself About What's Actually Happening
Given that the president himself is claiming that the Central American migrants are criminals attempting to invade the country, it can certainly be easy to feel uncertain — or even downright afraid — if all you are hearing is the alarmist rhetoric that is certainly abundant on social media at the moment. With many led to believe that the country is under attack, and that the children are simply pawns being used by gang members and criminals to weasel their way in for sinister purposes, the reality of the caravan can quickly be overlooked.
Those on the ground though, have told a much different story: The Guardian's Bryan Mealer traveled with the caravan and spoke to families who detailed their dangerous and grueling journey of walking for hours on end through mountains and forests, in extreme heat, often while carrying tired, crying children, stuck sleeping in tents or makeshift shelters as they went.
But they also had good reason to stick it out. A group of single parents traveling in the caravan with their disabled children told Mealer that they'd left due to intense gang violence that was threatening their safety, and Honduran mother María Cáceres said she'd ultimately fled with her 15-year-old son, who has Down syndrome, after their house was burned down, and her two brothers murdered. As another migrant man in Tijuana explained to NBC News, "We're not running because we're criminals. We're running from the crime in our country."
Open Your Home To Refugees
Though it may not be an option feasible for everyone, one extremely valuable way to help is by providing shelter to those in need. According to The Los Angeles Times, an estimated 75 people have already expressed interest in helping to house asylum seekers, and national organization Showing Up For Racial justice is currently coordinating volunteer sponsors for those in the caravan. U.S. citizens who are interested in acting as sponsors for those who have made claims — provided that, at some point, they will actually be able to do that — can sign up online here.
Call Your Reps & Demand They Do The Right Thing
Though contacting your elected officials may not always yield the outcome you're hoping for, it's definitely an important step to take, and is at least an attempt to keep them accountable to the people they represent.
Entering your zip code on the U.S. House of Representatives website will help you find out to find out who to call or email in Congress, and the U.S. State Senate website will help you find the contact information for your senator.
At a time when the news cycle seems filled with non-stop fear mongering and straight-up cruelty, it can be easily to feel hopeless about change. But the families on the ground are humans beings who need our help, and there are absolutely things we can do to at least attempt to make a difference.