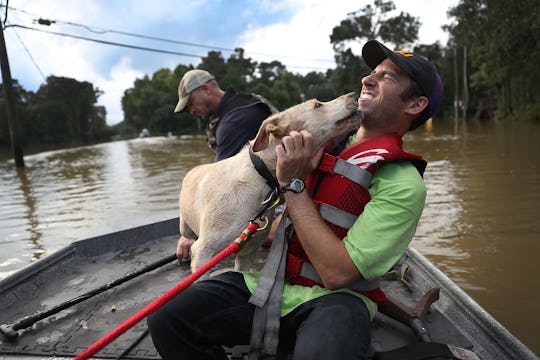 Joe Raedle/Getty Images News/Getty Images
How To Help Pets Stranded In The Louisiana Flood
The terrible flooding in Louisiana is finally starting to get the coverage it deserves, and now many are wondering how to help those who have been displaced and otherwise affected by it. But humans aren't the only ones in need of aid at the moment — plenty of animals have also lost their homes. In case you're wondering, here's how to help pets stranded in the Louisiana flood.
Brave people have been rescuing pets and other animals from the waters since the flooding began, in accordance with a law passed after Hurricane Katrina that calls for rescuers to expend the same efforts to save pets that they would to save a person. Thankfully, more than 3,300 pets have been rescued by now. But that doesn't mean their troubles are over. Many of these pets either came from shelters that are now underwater, or need expensive medical care. So one of the biggest most impactful ways to help these rescued animals is to either donate to places helping to rehome them, or adopt.
If you're interested in adopting, more than 50 dogs saved from the flooding are being transferred to the Dallas ASPCA, and are expected to arrive there Wednesday afternoon. Those dogs will be put up for adoption after they have undergone all necessary medical treatment. Once they're ready, information on how to take one in will be available on the ASPCA's website.
PAWS Shelter in Chicago will also be taking in a number of cats and dogs whose owners can no longer take care of them, or who are homeless for some other reason, and will make those animals available for adoption after proper medical attention.
If you'd prefer to donate, plenty of shelters badly need money as they begin to rebuild, or as they deal with the recent influx of animals into their overcrowded facilities.
Petco Foundation is one of the largest organizations collecting money for pet relief, and in a statement on its website, the foundation promises that "all money raised will go directly to the local Louisiana groups on the ground working tirelessly to save lives." As of August 19, the Petco Foundation had collected $200,000, distributing it to organizations like The Denham Springs Animal Shelter, which needs to completely rebuild, and The Humane Society of Louisiana. It's particularly worth checking out because it occasionally matches donations.
The Times-Picayune also has a great list of shelters that need assistance, and the best ways to donate to them, in particular featuring the Lamar Dixon Expo Center, which has been taking in everything from dogs to horses while also serving as a shelter for people.
Every little bit helps. And luckily for pet lovers, there are many easy ways to make an impact, and to ensure that these unfortunate animals can recover.