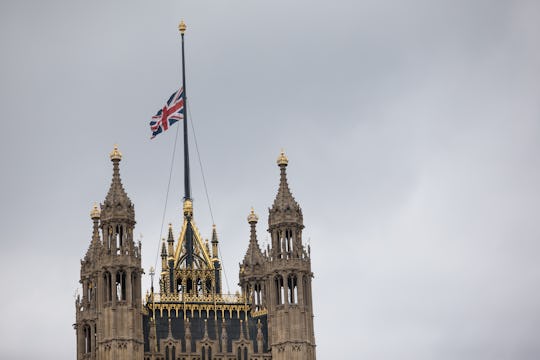 Jack Taylor/Getty Images News/Getty Images
How Homeless Manchester Citizens Became Heroes Following Tragedy
The world is still reeling from Monday's horrific bombing at an Ariana Grande concert in Manchester Arena. The attack, which ISIS has since reportedly claimed responsibility for (those claims are dubious, according to experts) left 22 people dead and almost 60 more injured, many of whom were children. While it's impossible to make sense of such a tragedy, such an inhumane waste of life, the story of homeless Manchester citizens who cared for victims in the wake of the attack offers a reminder of the inherent goodness that still exists. And social media users have taken up the torch to support these courageous souls.
Ariana Grande had just finished her final set at the Manchester Arena in front of hundreds of her young fans on Monday evening when an explosion went off in the arena at around 10:35 p.m. local time. Grande had reportedly already exited the stage at the time of the explosion; She later tweeted a message to her fans that read: "Broken. From the bottom of my heart, I am so so sorry. I don't have words."
As petrified fans attempted to flee the scene and emergency responders were attempting to offer aid, two men also offered their selfless assistance. Chris Parker and Stephen Jones, both of whom are homeless citizens of Manchester, put themselves in harm's way to care for the victims of the bombing.
Among the many Manchester citizens who came out into the night to protect the victims and offer help, Chris Parker's story stands out as one of incomparable humanity and kindness. The 33-year-old man told The Sun that he was on hand at the Manchester Arena as he often was for big events to ask concertgoers for spare change. He said he was thrown to the ground by the explosion but got up immediately to help the injured. He described the scene for the news outlet:
Everyone was piling out, all happy and everything else. As people were coming out of the glass doors I heard a bang and within a split second I saw a white flash, then smoke and then I heard screaming. It knocked me to the floor and then I got up and instead of running away my gut instinct was to run back and try and help. There was people lying on the floor everywhere. I saw a little girl … she had no legs. I wrapped her in one of the merchandise T-shirts and I said "where is your mum and daddy?" She said "my dad is at work, my mum is up there."
After tending to the little girl, Parker said he cradled a woman of about 60 in his arms as she died from her injuries. Parker said he is still "in shock" and "can't stop crying" after the attack. His story has since attracted massive attention on social media, and a GoFundMe page has been started by Michael Johns to help Parker. The original goal was 1,000 British pounds, and has already accumulated nearly £10,000 from grateful followers.
Stephen Jones, who happened to be sleeping nearby, also found himself rushing into the Manchester Arena to help the children he saw, many of whom were suffering from horrific injuries. As Jones told ITV News:
Just because I'm homeless, it doesn't mean I haven't got a heart and I'm not human still It's just instinct to go and help if someone needed your help, and it was children, it was a lot of children with a lot of blood on them screaming and crying.
In the interview, Jones said he liked to believe that people would help him if he were in the same position. And he was absolutely right. A crowdfunding page for Jones was started by Diane Moore in the aftermath of the bombing for over on justgiving.com, and has since raised nearly £10,000 to help find him a place to live.
There is no comfort to be found after this sort of tragedy, not really. No solace to be offered. The only thing we can do as human beings is cling to stories of kindness, and bravery, and deep wells of empathy. We can help men like Stephen Jones and Chris Parker... because they have offered us the only help available at times like this. They offer hope.