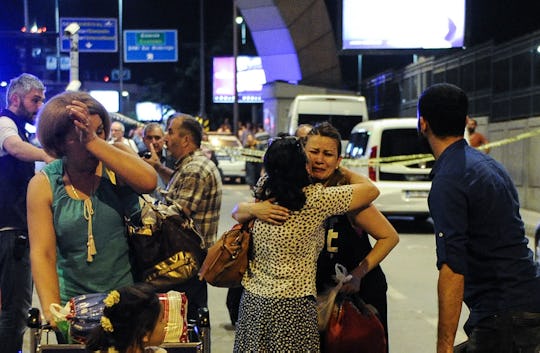 Gokhan Tan/Getty Images News/Getty Images
How To Help The Victims Of The Istanbul Attacks, Because They're Going To Need Support
The cosmopolitan city of Istanbul, Turkey was in shock on Tuesday as three suicide bombers attacked the bustling Ataturk Airport, detonating at least three explosive devices. Recent reports from Turkish officials and the Associated Press suggest as many as 50 people are dead and over 60 have been injured in the wake of the attack. And while the rest of the world looks on in horror, many people are looking for ways to help the victims of the Istanbul airport attacks as quickly as possible.
Update, 7:17 p.m. ET: Istanbul's governor says at least 31 people were killed in the Istanbul Ataturk airport attack, and at least 60 were wounded, according to the Associated Press. Authorities believe there were three suicide bombers. This corrects earlier estimates from the Turkish justice minister that put the number of fatalities at 50.
The attack happened at around 10 p.m. local time, a bustling time in one of the busiest International airports in the world. According to the BBC's Mark Lowen, a foreign correspondent in Turkey, the attack appeared to be a well-organized, coordinated assault. One of the assailants reportedly opened fire just before hitting the first security check at the Departures gate, according to a Turkish Justice Minister Bekir Bozdag. This is not the first deadly attack to rock Turkey, with so many bombings in recent months that the United States updated a travel advisory on Monday, urging extreme caution to travelers due to "increased threats from terrorist groups throughout Turkey and to avoid travel to southeastern Turkey."
Kurdish separatists and Islamic State militants have been claiming responsibility for these bombings, directly targeting tourists.
As police, emergency crews, and government officials work towards helping the victims amidst the wreckage, concerned citizens are struggling to find ways to help the people affected. Here are a few ways you can lend a hand.
Give Blood
One of the best ways to help the victims of the Istanbul attacks if you're in the region is to donate blood. You can schedule a blood donation with the American Red Cross, and check their website for helpful tips on eligibility requirements (be healthy, at least 17 years old, and at least 110 pounds).
Social Media
While it's easy to feel sort of helpless and lost in situations like this, especially for those of us living so far away, social media sites like Twitter, Facebook, Instagram, and Snapchat can make a huge difference to the victims. Offering regular updates, sharing photos like the one above of lost family members, can mean the difference between living in the dark and connecting with a loved one for many people. (Just make sure you're not tweeting unconfirmed information!)
People can also spread the word about Facebook's safety check feature. You can find and connect with friends in the area and mark them safe once you have found them.
Donate
While it is too soon for charities to have set up donation sites for the Victims of Istanbul, it's a good idea to watch for them to pop up soon (and to make sure you are giving your money to accredited charities). Charities like the American Red Cross, World Vision, and Oxfam-America are some of the top-rated charities who give over 75 per cent of their funds to the victims.
In the meantime, perhaps the best thing to do is be on alert. Be ready to help in whatever capacity you can, whenever you can. It's all any of us can do right now.