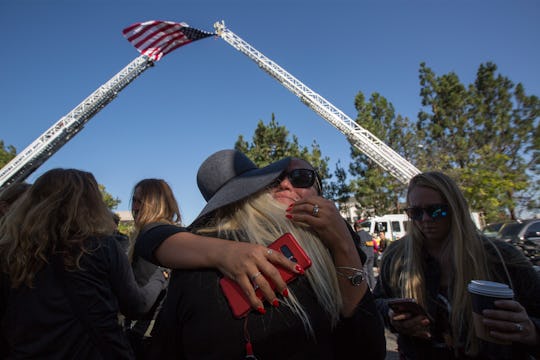 David McNew/Getty Images News/Getty Images
How You Can Help The Thousand Oaks Shooting Victims & Their Families
Early Thursday morning, a 28-year-old gunman opened fire in the Borderline Bar & Grill, a western-style bar located in Thousand Oaks, California. Authorities confirmed the deaths of at least 12 victims, while about 21 others were hospitalized with injuries, as CNN reported. And if you want to help the Thousand Oaks shooting victims and their families amid this tragedy, you'll want to take a look at these four options.
Just weeks after 11 people lost their lives at the Tree of Life synagogue in Pittsburgh, Pennsylvania, the public learned of another mass shooting early Thursday morning. The tragedy occurred during "College Country Night" at the Borderline Bar & Grill, with many students from Pepperdine University and California Lutheran University attending the event, according to The Sacramento Bee.
Authorities confirm at least 12 people were killed by the suspect who reportedly entered the bar with a .45-caliber Glock handgun equipped with an extended magazine and started shooting into the crowd, according to ABC News. One of the victims includes Tamera Mowry-Housley's niece, 18-year-old and Pepperdine University freshman Alaina Housley. Mowry-Housley and her husband, Adam Housley, confirmed the news in a joint statement to The Hollywood Reporter Thursday afternoon. They said:
Our hearts are broken. We just leaned that our niece Alaina was one of the victims of last night's shooting at Borderline bar in Thousand Oaks. Alaina was an incredible young woman with so much life ahead of her and we are devastated that her life was cut short in this manner. We thank everyone for your prayers and ask for privacy at this time.
Other confirmed victims include, Cody Coffman, 22, Justin Meek, 23, Noel Sparks, 21, Sean Adler, and Ventura County Sheriff Sgt. Ron Helus, 54, according to BuzzFeed News.
It goes without saying this is devastating time for anyone who has been touched by this senseless tragedy, including the 21 victims who were hospitalized. For those who want to help out during this difficult time, take a look at these four options.
Attend A Blood Drive
One of the most important things you can do after a mass shooting is to donate blood. Los Robles Hospital held a blood drive at La Reina High School in Thousand Oaks throughout Thursday, sharing that it was in need of O negative blood. Although Thursday's blood drive is now over, Thousand Oaks Transit will provide free transportation to blood drive centers in the area on Friday.
Thousand Oaks Transit tweeted:
Los Robles Hospital is in need of blood donations. If you are able to donate and in need of transportation, both TOT Bus and Dial-A-Ride will be providing free transportation today and tomorrow to any blood drive centers in the area. For info call (805) 375-5473 or (805) 375-5467
Donate To The Borderline Shooting Victims Fund
Your money can go a long way in covering the costs of funerals and other expenses associated with the shooting. One GoFundMe you can contribute to is the "Borderline Shooting Victims Fund," a fundraiser meant to "provide relief and financial support to the victims and families of this tragic Thousand Oaks mass shooting."
The fundraiser states:
Funds will be collected by the Unrestricted Charitable Foundation of the Rotary Club of Westlake Village, a registered 501(c)3. Brian Hynes, owner of Borderline Bar and Grill, is a member of the Rotary Club of Westlake Village. I am in direct contact with Brian Hynes, and he has asked me to set up this official GoFundMe for Borderline and Rotary Club of Westlake Village.
Give Money To The Ventura County Community Foundation
Another financial option? You can donate to the Ventura County Community Foundation, which has "established a fund to support families of victims from the mass shooting," CNN correspondent Dianne Gallagher wrote on Twitter.
Support Ventura County Sheriff Sgt. Ron Helus' Family
Ventura County Sheriff's Sgt. Ron Helus was killed as he tried to stop the shooter, according to CNN.
"He went in to save lives, to save other people. He was totally committed, he gave his all," Ventura County Sheriff Geoff Dean said in a statement, according to USA Today. "And tonight, as I told his wife, he died a hero."
To donate to Helus' family, you can visit a GoFundMe page organized in his memory.
The tragedy at the Borderline Bar & Grill is the 304th mass shooting of 2018, according to Vogue. Although it's easy to feel immobilized by this statistic, know that there are many people in Thousand Oaks that need your help right now.