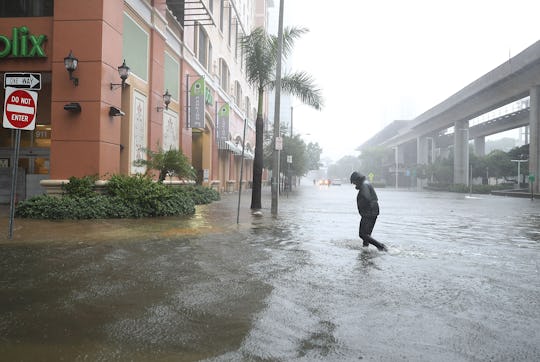 Joe Raedle/Getty Images News/Getty Images
How To Help The Victims Of Hurricane Irma Right Now
Shortly after Hurricane Harvey left devastation in Texas, Hurricane Irma swept through the Caribbean, leaving plenty of destruction in its path, before heading to Florida. As yet another powerful storm, Irma has created a need for outreach and assistance everywhere that it has touched. If you're wondering how to help victims of Hurricane Irma, you're in luck because a number of organizations are already planning to come to their aid and will need all of the help they can get.
Terrifying videos of the hurricane's strength, wind, and rain are circulating on the internet now that Irma has made landfall in Florida. Recent reports state that over 1 million Floridians have already been left without power and that number may continue to rise to as many as 9 million when final counts are in, according to NBC News.
Prior to making landfall in Florida, Irma wreaked havoc on the outlying islands near the United States. The destruction in the Caribbean has been described by the media as "apocalyptic." According to The Guardian, over 95 percent of the French island of St. Martin was destroyed in the storm. The New York Times reported that once Irma made its way through Puerto Rico, about 40 percent of the island did not have power and 13 percent of households were without water, as of Saturday night.
The sheer number of people left in need following this storm may have you feeling inclined to help however you can. And while you may want to ship off a box of supplies, according to the Center for International Disaster Information the best way to help is by donating money, rather than goods or services during the immediate aftermath.
Because victims' needs can be vast and varied, entrusting organizations to send the money where it needs to go is your best bet to help meet those needs. Here are a few charities that are working to help Irma survivors and could use your help.
Global Giving's Hurricane Irma Relief Fund
Global Giving is an international crowdfunding community that helps connect people with causes. It is currently working on reaching its goal of $2 million for Irma relief. The site states that this money will be used to address immediate needs first such as "food, fuel, clean water, hygiene products, and shelter."
Once initial relief is completed, the remaining funds will go towards rebuilding and " longer-term recovery efforts run by local, vetted organizations responding to this disaster," according to the website.
The American Red Cross
The Red Cross received some criticism following Hurricane Harvey for arguably meager supply boxes, but it is an organization that has been vetting by a number of charity evaluations, such as Charity Navigator, and found to be reliable.
Following Harvey, American Red Cross CEO Gail McGovern issued a statement saying that 91 cents of every dollar donated to the cause was going to Hurricane Harvey relief. It has now focused its efforts on Irma.
Oxfam America
Oxfam is an organization working to help Irma victims in the Caribbean. According to the official website:
Oxfam has worked in the Caribbean region for over 30 years and has expert teams supporting a network of local partners providing safe water and sanitation for those people most vulnerable after an emergency.
Florida is heavy on everyone's minds as Irma moves West, but it is important to remember the victims left in its wake as well.
Save The Children
The child welfare organization Save The Children is accepting donations to benefit children in Irma impact zones. The organization currently has people on the ground in the Dominican Republic and is working on a course of action for Haiti as well. Director of the Emergency Health Unit of Save The Children, Unni Krishnan, stated that children are the most vulnerable storm victims:
Deadly storms have a bias against children. Storms often leave a lasting impact on young minds. Relief efforts should prioritize children – their needs, their emotional well-being.
Those looking to help children impacted by the storm should consider Save The Children as a potential donation recipient.
Americares
This health-focused charity is actively working in disaster zones of Irma, as well as in Texas following Hurricane Harvey. Its "Hurricane Disaster Relief Fund" pays for expenses associated with needs in both areas — including medical care, supplies, and medicine.
For every $10 donated, Americares says it is able to give $200 worth of aid. Talk about a return on investment.
Charities Helping Animals
Humans aren't the only victims of natural disasters. Animals, both domestic and wild, are also greatly impacted. One of the most heartbreaking stories to come out of Hurricane Irma is that of the more than 50 animals found chained and abandoned by their owners in West Palm Beach, Florida as Irma approached. Fortunately, officials were able to rescue all of these animals, but it is unknown how many others were left undiscovered in similar situations.
For those looking to help the animal victims such as these, consider donating to the American Society for the Prevention of Cruelty to Animals, the Best Friends Animal Society, and the South Florida Wildlife Center.
The successive impacts of Harvey and Irma have left many areas in great need of support. As Irma continues to move through the United States, it is likely that even more victims will arise. By donating to any of the aforementioned organizations, you can play your part in overcoming these tragedies.
Check out Romper's new video series, Romper's Doula Diaries: