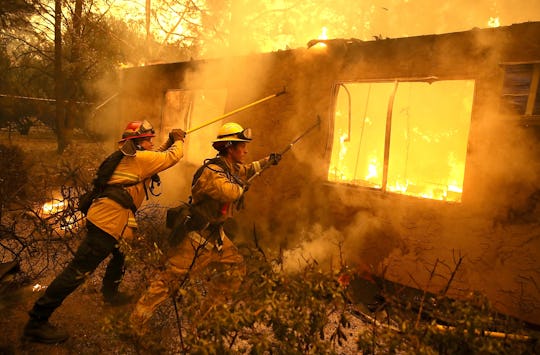 Justin Sullivan/Getty Images News/Getty Images
How You Can Help Help People & Pets Affected By The California Wildfires
Wildfires have been raging across three areas in California over the past few days, resulting in the deaths of 23 people in Northern California, with two other deaths reported near Malibu. Hundreds of others have been reported missing (though many were later found), hundreds of thousands of people have had to evacuate their homes, and the fires have been named some of the most destructive in California's history. If you want to do something about this ongoing devastation, here's how to help the victims of the California wildfires.
For a little more background, the three major fires erupted in California on Thursday, Nov. 8, as Vox reported. The biggest of the three fires is the Camp Fire in Butte County (in Northern California), which has burned 109,000 acres of land according to Cal Fire and destroyed 6,700 buildings, according to CNN. The Woolsey Fire in Los Angeles County and Ventura County (in Southern California) has burned more than 83,000 acres, according to Cal Fire, and forced 300,000 people to evacuate their homes, Vox reported. Also in Southern California, there's Hill Fire, in Ventura County, which has burned more than 4,500 acres of land, as per Cal Fire.
There are several ways to help first responders, people, and animals affected by the wildfires. Here are a few organizations you can donate to or volunteer for.
1. Donate To The Los Angeles Fire Department Foundation
The Los Angeles Fire Department Foundation is a non-profit, and the LAFD Facebook account posted that they use "all donations to purchase equipment and training not covered under the department budget." For those who live in the area and want to donate physical goods, the office of Council District 3 is open today, Nov. 11, from 10 a.m. to 2 p.m. local time for donations. The office is located at 19040 Vanowen St. Reseda, CA 91335.
2. Donate To The Ventura County Community Foundation
The Ventura County Community Disaster Relief Fund and the Hill Fire and Woolsey Fire Sudden and Urgent Needs Effort are accepting donations, which will support relief and recovery efforts, not only to help aid victims of the wildfires, but also those of the Thousand Oaks shooting.
3. Donate To The Humane Society of Ventura County
Animal lives matter just as much as human lives, and luckily, there are a few organizations in California providing homes for animals displaced during the wildfires. The Humane Society of Ventura County has been rescuing and taking in many animals in the area, and donating funds would help it rescue and care for even more animals in need.
4. Donate To The Los Angeles County Animal Care Foundation
The Los Angeles County Animal Care Foundation's disaster relief response efforts aim to minimize suffering animals, provide shelter for animals, and to eventually reunite pets with their humans after emergencies like the wildfires. You can donate on the foundation's website.
5. Donate Or Volunteer For The Red Cross
If you are in the area and not affected by the fires, you can volunteer with the Red Cross by applying on the organization's website. The Red Cross is also accepting donations to help with disaster relief efforts.
6. Donate To The California Community Foundation's Wildfire Relief Fund
The California Community Foundation's Wildfire Relief Fun was founded in 2003 and has since raised over $5 million for those in need of help as they recover and rebuild after the devastation caused by wildfires. The fund helps people in so many ways, from providing material support to those who lost everything to support for those who need to access mental health or other services, and more. You can make a donation on the CCF website.
7. Donate Money Or Goods To Local Shelters & Relief Funds
Additionally, there are many local shelters and relief funds in California that could use help, according to Chico, California-based news outlet Action News Now. A lot of these shelters need donations of basic needs such as personal hygiene, food, blankets, pet supplies, and more, so if you are local, consider donating these goods.
It's also important to look at what caused such devastating wildfires in the first place. According to the New York Times, the leading causes are climate change, which human activity (such as burning fossil fuels and cutting down trees, as the EDF noted) greatly affects; a specific trigger, which is also often a human activity; fire suppression; and the Santa Ana winds. Hopefully human efforts can help victims affected by the fires, help repair California, and eventually prevent disasters like this from striking again.