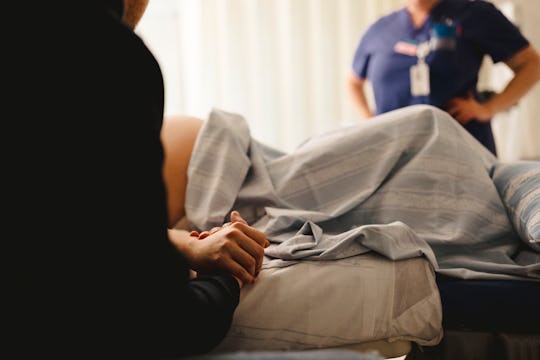 Johner Images/Getty Images
Here's How To Help Your Partner During Labor (Without Making Things Worse)
My husband wanted to help me when I was in labor with our first child. He really did. But here's why it's important to figure out how to help your partner when she is in labor ahead of time: Instead of giving me ice chips, he nervously chomped all of them — and left me none. At one point, the OB needed to ask him something (it was a very long labor), and he left the washcloth flat on my face and walked away. And when it came time to push, he yanked my neck so hard as he, the OB, and the labor and delivery nurse counted (I had a hard time keeping my chin tucked to my chest) that he wound up putting me in traction for three days postpartum. So while you might have the best of intentions, it's easy to mess with your sweetie's labor.
"Giving birth is an exciting, and sometimes overwhelming event," Shelly Taft, Licensed Practical Nurse (LPN), Doula, and International Board Certified Lactation Consultant (IBCLC) tells Romper in an email. "Partners especially can feel overwhelmed and unsure of how to best support the laboring parent." While surprises can (and will happen), having an understanding that you are there to support, guide, and love your partner through the process can make all the difference during delivery.
These strategies below can help soothe your partner during labor and help make her more comfortable as you welcome your new baby into the world.