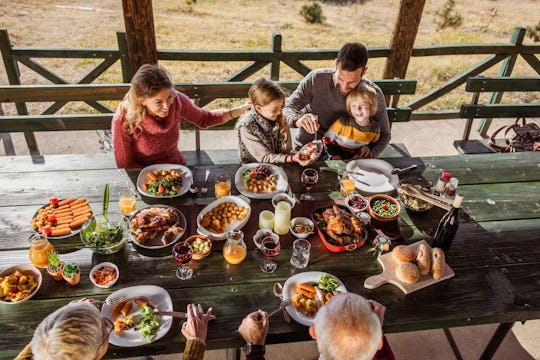 skynesher/E+/Getty Images
Here's How To Host An Outdoor Thanksgiving That'll Make The Whole Family Thankful
First, it was Easter and Passover. Then, it was Memorial Day, the 4th of July, and Halloween. So many of our beloved holidays have taken a hit (or have been greatly modified) due to COVID-19. But if you're drawing the line at having to stay separated from your family, friends, and loved ones come Thanksgiving, you're not alone. Thing is, you'll need to gather safely, which is why it's important to learn how to host an outdoor Thanksgiving.
"Thanksgiving this year may look a bit different, but it can still be enjoyable," Dr. Christina Madison, M.D., an infectious disease expert, tells Romper in an email. "You'll need to think creatively in order to dine together with safety precautions like social distancing and mask wearing put into place." With the right safety measures in place, you can still have all the things that make Thanksgiving special. Keesha Brooks, an event planner and owner of Reason-a-BOWS, LLC in Newport News, VA., definitely agrees in an email to Romper. "Your Thanksgiving can still be stylish no matter how big or small your gathering will be," she says.
So here's how to have a stylishly safe Thanksgiving al fresco that won't even make you miss dining indoors.