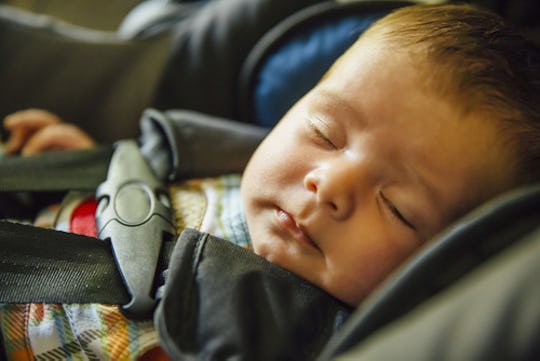 Blend Images on Fotolia
Your Baby's Coat Isn't Safe In Their Car Seat. Here's How To Keep Them Warm.
Winter is coming, and getting your gear ready can be quite a task. Along with pulling out sweaters, coats, blankets, and socks, you also have to figure out what kind of extra baby gear you will need. You can dress your baby in cute sweaters and cardigans when you take them out, but you should also know how to keep babies warm and safe in their car seat, in a comfortable way. (And that means ditching their adorable, puffy coats.)
Romper reached out to baby expert and Certified Child Passenger Technician, Jessica Zablan, of the Birth and Baby Company, who says that it's very important to know how to keep your baby warm in a car seat, because many parents don't know how to do it safely.
"As a Certified Child Passenger Technician, we tell our clients that the safest way is to dress the child in one warm layer," Zablan says, noting that the single, warm layer can be something like footed pajamas, which is an ideal option for newborns and younger babies. Once your baby is safely strapped into their car seat, Zablan suggests wrapping or snuggling a warm blanket around them. Just make sure that it doesn't interfere when buckling the seat into the car.
If you are thinking of getting your baby a puffy coat, you may want to reconsider. They can be cute and seem like a good solution, but they are actually very unsafe when put on under the car seat harnesses. "You should never put a child or baby in a puffy jacket while they are in a car seat," Zablan warns, "because if there is an accident, the puffy material will compress and the straps will not be tight enough to hold the baby safely."
Zablan suggests that another great option is doing a little bit of legwork in advance by warming up your car before bringing the baby inside. This will help keep the baby warm once inside the car, and eliminate the need for blankets while inside it. If it is snowing or raining, Zablan says you can get a car seat cover, but you should remove it once the baby is in the car. "Car seat covers should be removed when your baby is inside the car," she adds, "because it is not safe to use aftermarket products with your car seats."
The American Academy of Pediatrics (AAP) suggested that parents avoid adding bulky layers under the baby's car seat straps because if there is a car crash, any kind of fluffy padding will go flat with the force of the impact. This, the organization explained, can leave space under the harnesses, making it easier for your child to slip through their straps and possibly be thrown forward. The AAP also recommended only using a car seat cover over the straps of the car seat, and to always keep your baby's face uncovered for fresh air.
Too many layers can become a problem, especially after the car warms up. In an interview with Romper, Pennsylvania pediatrician Dr. Jarret Patton says that because it can be difficult to keep a baby's temperature regulated in cold weather, especially in and out of cars, you should be mindful of bundling them up just enough so they don't overheat in a long car trip. "It is not uncommon for babies to develop a heat rash in the winter from being over bundled in a car seat for too long," says Patton. He adds, however, that you should make it a practice to keep extra blankets and water in the car in case of breakdown, or a prolonged period of time in the car without heat.
The best bet, as suggested by Zablan and Patton, is to keep your baby in light and warm layers that aren't too bulky or puffy. Not only are coats and covers unsafe, they can also lead to overheating, so it's best to avoid them. A loose blanket or cover when bringing your baby from the house to the car should be just fine, so relax, sit back, and enjoy the winter to come.
Check out Romper's new video series, Romper's Doula Diaries:
Check out the entire Romper's Doula Diaries series and other videos on Facebook and the Bustle app across Apple TV, Roku, and Amazon Fire TV.