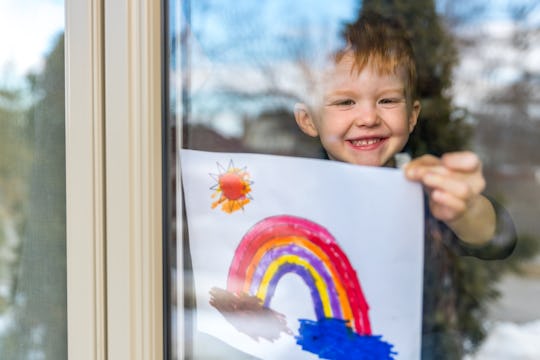 Onfokus/E+/Getty Images
15 Ways To Keep Your Kid Connected With Their Neighbors While Social Distancing
At this point of the quarantine that feels like it will never end, your kids are probably (most definitely) missing their friends and social interactions at school and the neighborhood kids. Parents are actively searching for ways to keep kids connected with their neighbors during quarantine not only for their kids to nurture friendships and get some socialization in, but also for said parents to get a little break.
But things get tricky when you can't just throw your kids outside on their bikes and tell them to go over to Susie's house to ask her to come play. Now they have to maintain at least 6 feet of distance from each other, and even better if they all stay in their own yards. With the one added bonus of not having to feed all of your snacks to the neighborhood kids while this is going on, believe it or not, there are a lot of fun social activities and games kids can play on their own or with an adult while still social distancing and remaining at least 6 feet apart.
From virtual playdates to scavenger hunts, to sidewalk chalk drawings and messages, to even having bike races on opposite sides of the road, there's an activity for kids of all ages that will help pass the time while keeping your kids social.